Siqueiros: L.A. Panel Discussion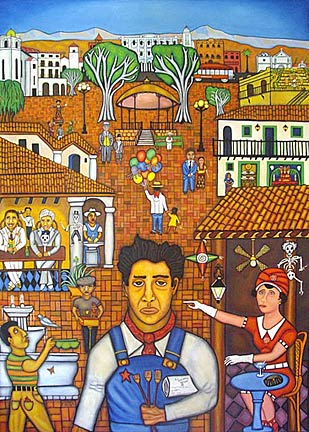 Since January 2005, this web log has been following the history of América Tropical – the famous 1932 mural painted by Mexican Muralist David Alfaro Siqueiros on Olvera Street in downtown Los Angeles. So it is my pleasure to announce the first of three important L.A. panel discussions regarding the mural and the legacy of Siqueiros.
Organized by Amigos de Siqueiros and moderated by painter Raoul De la Sota, América Tropical At Last is an artist organized forum that will present "an overview of the career of David Alfaro Siqueiros and a discussion of the social and political events during which he worked."
Panelists will include the creative director of the Social and Public Art Resource Center, Judy Baca; photographer, writer, and curator of the upcoming Siqueiros: Censorship Defied exhibit at L.A.'s Autry museum, Luis Garza; historian and artist, Raul Herrera; historian Isabel-Rojas-Williams – and artist John Valadez.
The Friday, June 18, 2010, free public event begins at 7 p.m. The round-table discussion takes place at the Mexican Cultural Institute Art Gallery, which is located on the famous avenue where Siqueiros painted his controversial mural. The address for the Mexican Cultural Institute is 125 Paseo de la Plaza – the institute is adjacent to the famous bandshell at La Placita, right next to the historic Plaza Methodist Church. The gallery can be found in the institute's basement from a street accessible staircase – look for the signage.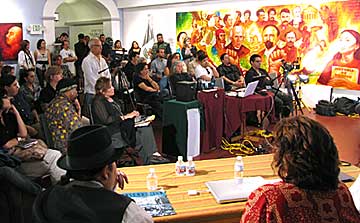 Update: The June 18, América Tropical At Last event at the beautiful Mexican Cultural Institute Gallery was well attended by around 100 people.
The forum lasted nearly three hours, which hardly seemed enough time for all of the presentations and audience feedback. Although the event was marred by technical problems and what I feel was a lack of focus, significant questions were still raised, and people were given much food for thought. I will offer a summation of the evening's proceedings when I file a final report on the entire series of panel discussions – which I urge all Southern Californians to attend. Those outside the region will benefit from that final report, which is sure to reveal new information about Siqueiros, América Tropical, and the possibilities for a new social activism in art.
The next speaker's forum, Artist Warrior: From Siqueiros to Carrasco and Beyond, is scheduled to take place on July 16, 2010, at the Mexican Cultural Institute Gallery, 7 p.m. According to the organizers, the evening will focus on the artist as a "political and cultural activist," and "what strength of purpose" it takes to create public art "in these fractious times." Panelists will include artist Jose Antonio Aguirre, artist Raul Baltazar, artist and teacher Glenna Avila, artist Barbara Carrasco, artist Wayne Healy, and a screening of Bert Corona's film Artist Warrior. Corona (1918-2001), is considered by many to have been one of the founder's of the Chicano movement.
The final panel, Freedom of Speech and Censorship, will take place on August 20, 2010, at the L.A. headquarters building of the Mexican American Legal Defense & Educational Fund (MALDEF). The program starts at 7 p.m. and will feature artist Ernesto de la Loza, artist Gilbert Magu Lujan, artist Eloy Torrez, the President of MALDEF, Thomas Saenz, and a screening of Jesus Trevino's film, América Tropical. MALDEF is located at 634 S. Spring Street, Los Angeles, CA. 90014. The final two panel discussions will also be moderated by artist and teacher, Raoul De la Sota.
[ The painting of Siqueiros was kindly provided by artist Peter Wood, whose works can be seen here. You may contact Mr. Wood at oaxacamouth@hotmail.com ].