WARP Interview: Against the Machine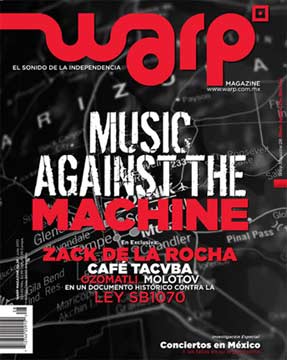 WARP, the Spanish language glossy magazine from Mexico that focuses on the international contemporary music scene, arts, culture, cinema, and more, conducted an interview with me that appeared in the monthly's July 2010 print edition.
Under the headline of, "Music Against The Machine," WARP Magazine #28 was a special edition dedicated to those bands, performers, and individuals who have spoken out in opposition to SB1070, the racist anti-immigrant law recently enacted in Arizona.
WARP Magazine #28 included exclusive interviews with Zack de la Rocha of Rage Against The Machine, L.A.'s own Latino/Rock/Hip Hop powerhouse Ozomatli, as well as interviews with Café Tacvba and Molotov – two of the most popular alternative rock bands in Mexico who have been widely admired in that country for some years. Each of the interviewees offered their take on anti-racist activism on both sides of the U.S./Mexico border.
For my part, WARP staff reporter Chëla Olea conducted the magazine's interview with me, which offered a brief personal history on yours truly, an overview of my position regarding activist art, reflections on how art can bring about change (quoting from the interview: "The very act of creating art is based upon transformative desire – a yearning for something that does not yet exist. That is what makes art a radical gesture and the very opposite of conservatism"), and my stance regarding the growing anti-immigrant sentiment of numerous people in the U.S.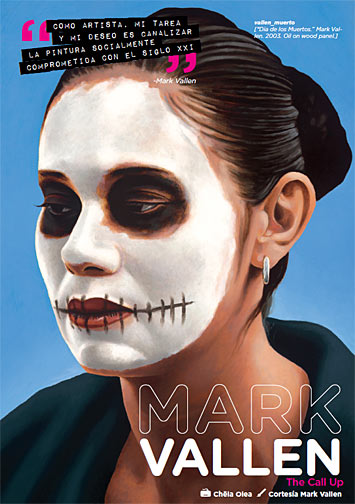 The interview was published in Spanish of course, so the excepts I am printing here have been transcribed into English for the convenience of non-Spanish speaking readers. When asked what I thought about Arizona's SB1070 immigration law, my response was as follows:
"Arizona's anti-immigrant law is racist and unconstitutional, but the law masks a much larger problem in the United States. Arizona Governor Jan Brewer also signed into law a bill that outlaws the teaching of ethnic studies in Arizona schools, simply put, this makes it illegal for educators in Arizona public schools to instruct students about the unique contributions made to U.S. society by Mexican-Americans. Ethnic studies programs in the U.S. have customarily included the history of African-Americans as well – so the banning of ethnic studies in Arizona is not just an affront to Latinos, but to truth itself."
When asked by Olea to give my opinion on what can be done to counteract SB1070, and how art might make a difference, my answer was the same as it would have been regarding the other crucial issues faced by the arts community and society as a whole:
"Artists have an important role to play when it comes to reversing the hateful laws that have been implemented in Arizona. Already a number of artists, musicians, writers, and actors have stepped forward to denounce what is going on in Arizona, and I find that encouraging. The universality of art can sweep away the barriers that keep people divided, though sometimes art must be combined with activism. On May 1, 2010, upwards of 200,000 people marched for immigrants rights in Los Angeles, and I was among the crowd. It is the people that are the engine of history, and so the artist must fight for and protect their rights."
The entire WARP interview with me (in Spanish), can be read online in .pdf format.