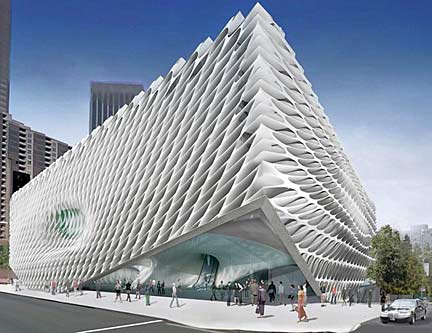 On January 6, 2011, Los Angeles billionaire Eli Broad unveiled the architectural plans for his new downtown L.A. art museum – which will of course be named, "The Broad."
The $130 million, three-story, 114,000-square-foot museum will be located on L.A.'s historic Bunker Hill, across the street from the Museum of Contemporary Art (MOCA), and the Walt Disney Concert Hall.
On its list of the 400 richest Americans Forbes magazine places Eli Broad at number 44, calculating his net worth for 2010 at $5.8 billion. The Broad museum is being constructed to house Mr. Broad's private collection of postmodern art by the likes of Jeff Koons, Damien Hirst, and Joseph Beuys. According to Forbes, Broad's collection is valued at more than $1 billion.
Eli Broad is on the Board of Regents at the Smithsonian Institution in Washington, a trustee of the Museum of Modern Art in New York, and a lifetime trustee for both the Los Angeles County Museum of Art (LACMA) and L.A.'s Museum of Contemporary Art (MOCA). In December of 2008 he bailed out a financially insolvent MOCA to the tune of $30 million. That same year the "Broad Contemporary Art Museum" (BCAM) opened on the LACMA campus, a building Broad had financed with a $56 million donation; however, the tycoon shocked LACMA by announcing he would not donate his vaunted collection to LACMA, but instead would loan it out to museums around the world through his "Broad Art Foundation." Broad's entire collection will now be housed at the forthcoming Broad in downtown L.A. It should not be forgotten that Broad helped arrange the $25 million donation that British Petroleum (BP) made to LACMA, which resulted in that museum constructing its odious "BP Grand Entrance."
Artinfo reported on the unveiling of the Broad museum architectural plans with the headline, Is L.A.'s Broad Museum Already Losing Its Edge? The mildly critical article bluntly stated that the museum's design by architecture firm Diller Scofidio + Renfro "has been edited by the museum's billionaire founder," while also asking whether the architectural plans for the upcoming museum are "in the process of being lobotomized." Kevin Ferguson of Southern California Public Radio (89.3 KPCC), made a tongue in cheek critique of the building's "cutting edge" architecture when he wrote, "I can't stop thinking of cow innards when I see it." Indeed, the edifice Mr. Broad intends to build to himself does bear a striking resemblance to a gigantic mound of tripe, and it is amusing to contemplate what The Broad will look like after vast flocks of pigeons take up residence in the museum's porous honeycomb outer walls. But these are trifling concerns when stacked up against the economic realities behind the new museum.
In August 2010, writer Tim Cavanaugh wrote a piece for Reason Magazine titled, Why Is Eli Broad Renting a Full Block of Downtown L.A. for $6,481.48 a Month? Cavanaugh opened his article with the following bombshell:
"Eli Broad's new agreement to build a downtown Los Angeles art museum gives the capricious billionaire and medieval patron of the arts what may be the sweetest rental deal of the century: a 99-year lease of a large parcel in downtown L.A. for a mere $7.7 million.

If that figure is accurate, this means one of the 100 richest people on the planet is leasing a full block on Grand Avenue for $6,481.48 a month. The owner of the land (in this case, L.A.'s Community Redevelopment Agency) could have gotten more than that with four rental units."
Cavanaugh contends that in a conversation with a staffer in the office of L.A. City Councilwoman Jan Perry, he was told that Broad is leasing the entire downtown city block of public land for one dollar a year – the going rate for cultural institutions. Apparently $7.7 million is not the lease price for the property, but what Broad agreed to pay the city for donations towards affordable housing under a 2004 Disposition and Development Agreement. Cavanaugh was able to reach William T. Fujioka, the Chief Executive Officer (CEO) of the County of Los Angeles, who confirmed these details, though Cavanaugh alleges Mr. Fujioka stated the agreed upon $7.7 million price was the result of tough negotiations with the city. Nonetheless, it is difficult to justify a multi-billionaire paying only $7.7 million for an entire city block of downtown L.A. property when individual condo units in that area sell for as high as $4 million. But then, being a venerated member of the ruling class does have its privileges.
The lease price controversy deepened when the Los Angeles Times published Mike Boehm's article, Some fine print in the Broad museum deal. Boehm's article details how "The Broad Collection museum eventually would receive millions of public dollars as a kind of rebate on its construction cost." Boehm's exposé is the knock-out punch. Contrary to reports that Broad will finance his museum with his own monies, it is L.A.'s tax-payers, already overburdened by the state and national economic crisis, that will end up footing the bill. Well, at least we know where the funds to clean up after all of those reprobate pigeons will come from.