"Where in the world, where in this situation now can I be revolutionary, iconoclastic, and a voice of freedom? And, mind you, I'd never even lifted a pencil or drawn a circle. I was eighteen. I thought, artist. You can be as revolutionary and loud and opinionated and self-righteous as you want to be in this world – in the art world. And they'll just accept it. You know, what an interesting curiosity, an artist with an opinion. And I thought, Okay. I'm going to be an artist. This is how I can survive, this is where I feel I can be free." —Richard Duardo in an 2007 interview with the UCLA Chicano Studies Research Center.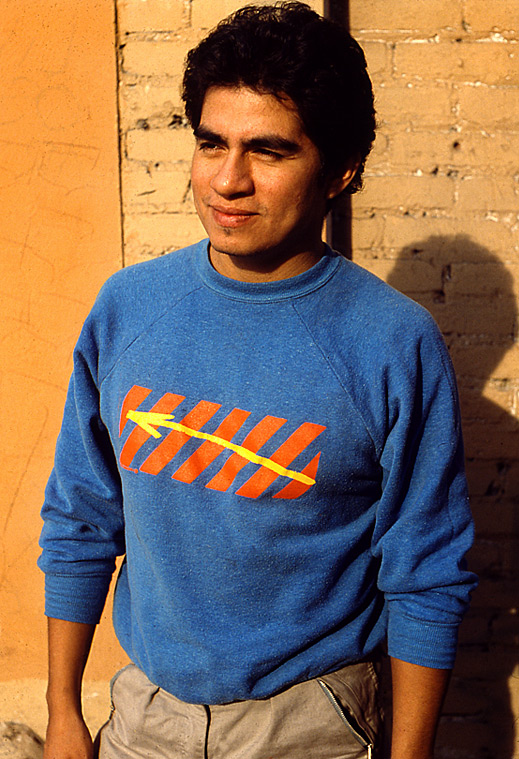 My old friend and associate Richard Duardo died on November 11, 2014 at the age of 62. I will let others compose the detailed obituaries… but I do have a few things to say about the passing of LA's maestro of serigraphy.
I made Richard's acquaintance in 1980, since we were both denizens of the Los Angeles punk scene. Our reputations preceded us, as we knew of each other's works before we ever met.
I had seen a number of silkscreen prints by Richard – like his 1978 poster Dia de Los Muertos, which was a public announcement for an art event held on Nov. 4, 1978 in the Highland Park area of the city.
Featuring a hand-drawn image of a skull clenching two red roses in its teeth, the poster is still in my collection. But it was Richard's punk posters that really grabbed me.
Richard and I were both enamored with The Plugz, one of LA's original Chicano punk bands. The group was widely popular in Los Angeles during that tumultuous period and Richard had produced a 1980 poster for them announcing performances with British bands Gang of Four (Starwood) and The Selector (Whiskey a Go Go).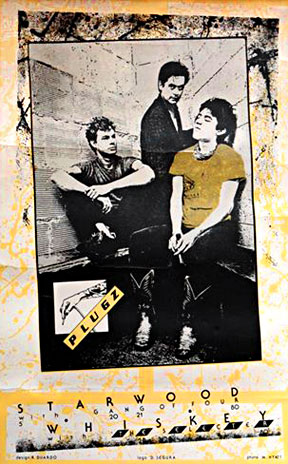 That same year Richard teamed up with Tito Larriva of the Plugz and Yolanda Comparan Ferrer to form the Fatima Records punk label. Its first production was Attitudes, the debut album from LA Chicano punk rockers, The Brat. Richard designed the album cover art for the record.
Only in the last few years has there been some acknowledgement that a sizable portion of the original punk scene in Los Angeles was composed of working class Chicano youth.
Richard and I were also fans of the Screamers, possibly LA's most extreme and theatrical early punk bands. In 1980 Richard created a large silkscreen portrait of Screamers front man Tomata du Plenty and keyboard player Tommy Gear.
Snarling in cheap sun glasses, Tomata stands behind Gear, who breaks open a raw egg. Esoteric and mysteriously confrontational, the Screamers print not only captured the novelty of the band, but the uniqueness of the entire early LA punk scene.
I still think of the Screamers print as a high-point of Richard's design career.
At the time I had also created portraits of the Screamers, and I am pleased that one of them, a 1978 portrait of Tomata, is currently on display at the Georgia Museum of Art's Boxers and Backbeats: Tomata du Plenty and the West Coast Punk Scene until January 4, 2015.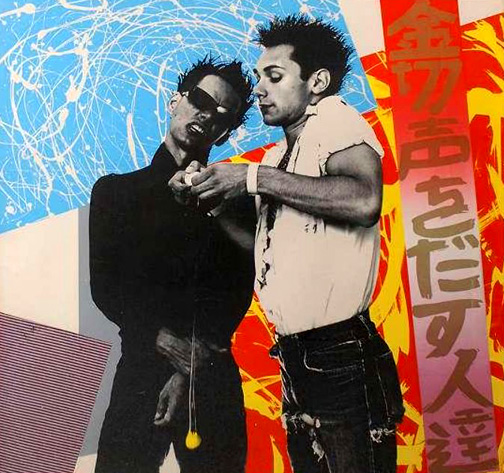 My two cover illustrations for L.A.'s punk journal SLASH magazine were well known in 1980 – a portrait of singer Sue Tissue of the Suburban Lawns, and Come Back To Haunt You, a drawing of an indigenous man wearing a leather jacket and sporting a Mohawk.
One day in 1980 Richard called me to ask if I would exhibit my works at a small group exhibit of artists to take place at his Centro de Arte Público gallery in Highland Park. He knew of my art, especially liked the SLASH portraits, and really wanted these works in the show.  Of course I said yes; years later, every time I saw Richard he mentioned how much he loved the Sue Tissue drawing, and always hinted at buying it. Now I wish I had simply given him a print of it years ago.
In 2002 I contacted Richard to see if he would be interested in reprinting my Sabra poster at his Modern Multiples serigraphy studio in downtown Los Angeles. He was supportive of the project and immediately agreed to do the work. I originally created the Sabra silkscreen print in 1982 as a reaction to the Sabra and Shatila massacres that killed some 3,000 Palestinian civilians in Lebanon during the Israeli invasion of that country in June of 1982.
My social realist Sabra poster has been misunderstood. It memorialized Palestinians who died in the 1982 massacre in Lebanon, but it was never intended to condone terrorism. Some thought the figure wearing a keffiyeh was meant as a positive depiction of a Palestinian terrorist, despite the fact that the figure depicted is not armed, and there is no inflammatory text in the image.
Keffiyeh can be traced back some 5,000 years to ancient Babylon, and the square cotton scarf became the traditional headdress of men all across the Middle East; for instance, it is worn by the Kurdish people. The garment has always been worn as protection against sun, sand, and cold. Yes, the keffiyeh became a symbol of Palestinian solidarity; that is the reason I depicted it in my silkscreen commemorating Palestinians killed in the Sabra massacre. Call me naive, but I never meant the artwork as a call to arms.
To be honest, there is an ironic meaning I embedded in the image. Sabra, or Tzabar in Hebrew, is the word for the prickly pear cactus that grows all over Israel. It is the same cactus that grows in the American Southwest and Mexico—where it was grown and harvested 8,000 years ago. Its delicious thorny red fruit known as "tuna" has been enjoyed for centuries; it is now enjoyed in Israel.
Long ago the prickly pear cactus of the Americas was imported to Israel via Spain, where it became part of the environment. Native Israelis began calling themselves "sabra," meaning they were tough and thorny on the outside but soft and sweet inside. Naturally, the Palestinians also lay claim to the cactus, calling it "sabr" and incorporating it into their cuisine and culture. Hence, my Sabra print is really about two people, intertwined by the land and its history, but still divided by nationalism.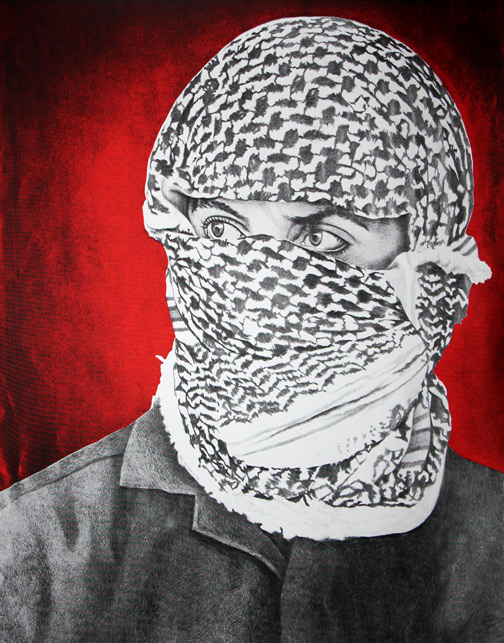 As Richard pulled the Sabra print, we discussed the politics of printmaking and much more. He was "left" but also cynical, preferring the artist's life to political activism. I spent some days around the studio, talking with Richard about all manner of things, including the so-called art scene. In a moment of truth he told me that he sometimes wondered what it was all about. He spoke of the hundreds of artists that had passed through his studio, and how so few of them actually got anywhere; of those that did achieve fame, their celebrity was usually fleeting.
I have to mention that during my time at Modern Multiples, Richard was also working on a silkscreen reworking of the legendary artwork created by Ignacio Gomez for the play, Zoot Suit. I was thrilled to see this work in progress, not just because I have come to know Mr. Gomez, but for the reason that as a twenty-five year old I saw Zoot Suit premier at the Mark Taper Forum in Los Angeles in 1978. I watched in fascination as Richard's assistants worked on creating a hand-drawn stencil for the large 37 x 51 inch silkscreen. Since the print had 25 colors in it, that meant 25 different screens; and because the edition was 250 prints, that meant an extremely labor intensive project. The results however are nothing short of astounding. Zoot Suit is a dazzling print full of rich detail and one of the reasons why Richard was an acknowledged master printer and his Modern Multiples was possibly the best arts oriented silkscreen workshop in the entire country.
I certainly had artistic differences with Richard. I thought his personal works became much too commercial in the latter half of his career, and that he need not have worked with so many self-absorbed art stars. He started to apply to himself the dreadful moniker given to him by others, "the Andy Warhol of the West Coast." But I have been told that it is impolite to speak ill of the dead.
Richard was sociable, gracious, and always supportive of artists. Looking up his own prints online, I am alarmed to find that his early works are practically non-existent, which is why I felt it necessary to write this obituary. Of the hundreds of artists that did pass through his workshop, I am certain that each and every one of them felt special because of the experience. That perhaps was Richard Duardo's greatest legacy.