Tlaloque: A Day of the Dead Monoprint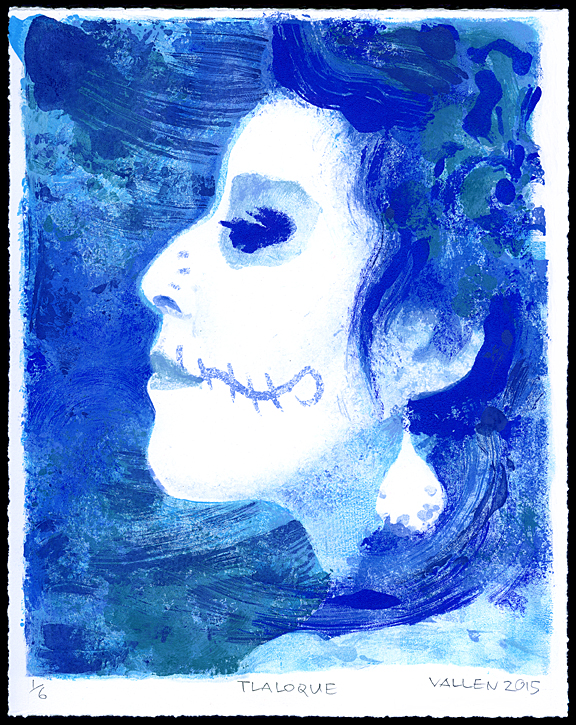 To mark the devasting drought of California (my home state), and to observe Día de los Muertos 2015, I have created an extremely limited edition suite of six monoprints. The prints recall the Tlaloque, underlings of Tlaloc, the ancient Aztec god of rain and celestial waters. You may consider my print a supplication for divine rain and an end to crippling drought; Tlaloque is a chromatic painted prayer put to paper in the Aztec tradition.
And what is the meaning behind my print?
Tlaloc had four water spirit assistants known as Tlaloque who lived in the high mountains where rain clouds gathered. It was the duty of these magical water sprites – who represented the four cardinal points – to gather up water in their ceramic vessels. Their jugs of water represented rain, frost, drought, and water-born calamity and disease. If pleased, Tlaloc would order his Tlaloque to break open their ceramic urns with their staffs to produce not just thunder and lightning, but life-giving rain. Just as easily, torrents could be unleashed to flood the land, or freezing sleet and snow sent to destroy crops. If angered, the rain god and his Tlaloque would punish with drought.

Essentially Tlaloque is a printed painting that depicts a watery realm. The artworks were created in oil paint directly applied onto a pane of glass, covered with a sheet of paper, and then burnished with a wooden spoon; each color was "pulled" separately. Working with a limited palette of cool colors (ultramarine, viridian, cerulean), I applied the paints using brushes, crumpled paper, cotton swabs and my fingers, to produce an ethereal female visage seemingly made from aquatic plants, water currents, and bubbles.
When buying these monoprints, remember that each stand-alone print is unique. While quite similar, no two prints are exactly alike. I cannot guarantee that your purchase will look precisely like the one displayed on this page. However, I personally pulled and curated the prints and found each one suitable for inclusion in the suite. Each print is dated, numbered, and hand-signed with the artist's signature and title of the print – Tlaloque.
$470. Tlaloque – Mark Vallen. Monoprint  8.5 x 11 inches. 2015 ©.
Purchase your print here.