A New Year message: Hope & Beauty on leave of absence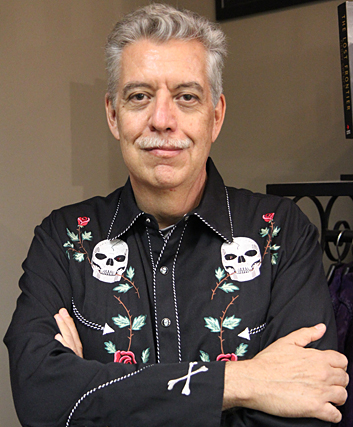 In 1627 the French Baroque artist Simon Vouet created the remarkable oil painting, Time defeated by Hope and Beauty. The masterpiece depicts Father Time dragged to the ground along with his scythe and hourglass; he has been vanquished by the paragons of Hope and Beauty.
Father Time is menaced by a grappling iron brandished by Hope, while the fierce grip of Beauty seizes the long grey tresses atop Father Time's head as she prepares to drive a spear into him. The joyous faces of Hope and Beauty belie the implied violence of the canvas.
This year poor Father Time looks bedraggled like never before. The elderly bearded man is bruised and gaunt; his robe is in tatters and his sash bearing the old year's date is ripped and splashed with human gore. But where are the paragons of Hope and Beauty? Unhappily, the political flapdoodle of "Hope" as advanced by a certain Folitician, sullied the good name of Hope the celestial being; she is taking a long hiatus from our fool's paradise until humanity comes to its senses. And as for that immortal that goes by the name of Beauty, well… the art world betrayed and abandoned her long ago.
As tradition has it, Father Time appears every New Year's Eve with an angelic infant, an allegorical newborn that represents what is to come. But this year everyone is suspicious of the angel-faced bambino, and it is assumed that the toddler will grow up to sow endless war, terrorism, pestilence, and economic collapse. We are frightened and skittish for good reason; a sense of foreboding envelopes us. But while Hope and Beauty are on leave of absence, they slyly left their metaphorical tools behind. I have added Hope's grappling iron and Beauty's spear to my stockpile of paints, brushes, pens, pencils, and canvases. With such an armory, this artist is ready to join the great battles of 2016.
A Happy New Year to almost everyone! And to help you locate the sanctuary of Hope and Beauty, here are a dozen of my web log posts from 2015 to guide your way:

Twittering Like A Bird (2015/01/31)
I took the plunge into social media and opened a Twitter account at the beginning of 2015.
"I have an aversion to the Orwellian truncation and mangling of English words and their meanings. Last year Lake Superior State University came up their 40th annual list of words that should be banished for their mis-use or uselessness; words like swag, foodie, curate, and enhanced interrogation. I would like to add to that list the words twitter and tweet. As a lover of the avian world and a keen bird watcher, I know that tweeting is something birds do. Nope, you can't fool me."

Obama's 2016 Arts Budget (2015/02/03)
"Let me put it this way. Our Nobel Peace Prize Laureate president has put forward a 'defense' budget for FY 2016 that will total $620.9 billion. His proposed budget for the National Endowment for the Arts (NEA), you know, the U.S. government agency that is 'dedicated to supporting excellence in the arts' from sea to shining sea… is a mere $148 million. Here I must add that Clint Eastwood's American Sniper has grossed, in just a three week period, $31.9 million dollars; the film is expected to generate $249 million in domestic sales.
When announcing his FY 2016 budget, Obama said: 'Will we accept an economy where only a few of us do spectacularly well? Or are we going to build an economy where everyone who works hard has a chance to get ahead?' The answer to that should be obvious; the financial aristocracy is grinning from ear to ear."

El Retrato de Linda Christian (2015/02/09)
"El Retrato de Linda Christian (Portrait of Linda Christian) has until recently been an oil painting by Diego Rivera that was virtually unknown to the general public, especially outside of Mexico.
As it stands, the painting has once again disappeared from public view, slipping back into obscurity as an expensive trophy in a private collection. Oh pobrecito Diego. ¡Oh pobres de nosotros!"

LACMA, BP & the Oil Workers Strike (2015/02/11)
"I always viewed LACMA's relationship with BP as an ethical dilemma for the arts community, from BP shaping an arts institution to LACMA being a partner in the oil giant's "greenwashing" propaganda. However, the nationwide workers' strike against BP adds a new wrinkle to the entanglement – revealing once more the difficult interface between art and capitalism.
If thousands of workers are on strike against BP because of deplorable working conditions that are literally taking workers' lives, and BP is a major contributor to LACMA… what then does that make the museum? Is it really an impartial institution? Does it actually need to be said which side LACMA is on – with the workers, their families and friends – or with BP?

"It feels as if art is failing us" (2015/02/21)
"On Nov. 27, 2014, the chief film critic for the New York Times, A.O. Scott, wrote an essay that broached the question, Is Our Art Equal to the Challenges of Our Times?
He stated emphatically that 'we are in the midst of hard times now, and it feels as if art is failing us.' Scott pointed out that in decades past, 'all the news you need about class divisions' could be found in painting, theater, movies, and literature. Here he explicitly wrote that he was 'waiting for The Grapes of Wrath. Or maybe A Raisin in the Sun, or Death of a Salesman, a Zola novel or a Woody Guthrie ballad – something that would sum up the injustices and worries of the times.' Mr. Scott will be waiting for a long time… all we get is 50 Shades of Grey, Justin Bieber, and some ludicrous balloon dogs from the vacuous Jeff Koons."

The Left Front: Defying Established Order (2015/04/01)
"In the ten year period covered by The Left Front exhibit, artists created works against racism, poverty, and the drive towards war, that is… the very same problems we have today. But what of the present?
Who wins favor with the art establishment? Why are artists failing so miserably in addressing the world's problems? Those in The Left Front show entrusted to us a people's history and a record of resistance. They bequeathed to us images of transcendent beauty, unbreakable spirit, and deep humanism in the face of bottomless cruelty and inhumanity. Now it is our turn."

May Day with Diego & Frida (2015/05/19)
I flew to Michigan in May to see and review the Diego Rivera and Frida Kahlo in Detroit exhibit organized by the Detroit Institute of the Arts. This unique photo-illustrated essay was the result."
Art critics and reviewers have written positive appraisals of the DIA exhibit, but they have done so with little understanding of Mexican history, and absolutely no sympathy for the politics embraced by Rivera and Kahlo. As an artist that has been involved with Chicano art and politics in Los Angeles since the late 1960s, I have a different take on Rivera and Kahlo."

Robert Henri's California (2015/05/22)
"Robert Henri's California dazzles on several fronts. It awes the viewer with Henri's skill as a painter and brings to life craft as an essential part of painting. It produces a sense of admiration regarding Henri's ability to capture the essence of people in formal portraiture, revealing the deep humanism Henri possessed. The exhibit also affirms something little known about the man usually thought of as a 'New York' realist painter – his deep and abiding love for the lands and people of southern California."

In the Land of the Tlingit (2015/07/31)
"Fortune smiled upon me and I found myself in the land of the Tlingit from June 7th to June 14th, 2015; I made an all too brief journey to Southeast Alaska and witnessed many wonderful sights during my brief sojourn.
The indigenous Tlingit, Haida and Tsimshian people all live in the region, but this article will place emphasis on the enduring Tlingit people as I encountered them during my visits to the Alaskan communities of Icy Strait Point, Hoonah, Juneau, and Ketchikan.

I Did Not (2015/09/07)
A rather flowery autobiography of sorts, posted when I turned 62:
"I did not start my American life at Disneyland, but it was a close starting point. I was born September 7, 1953. Disneyland opened in California in 1955, my parents took me there in 1959. I was six-years-old.
"That same year Soviet Premier Nikita Khrushchev was denied permission to visit Disneyland. I liked Tomorrowland where I rode the look-alike U.S. Navy nuclear submarines. I liked the Rocket to the Moon ride with its space age astronauts. I did not like Mickey Mouse.

007: The Spectre of Ayotzinapa (2015/09/15)
"Cinema has always been an art form that easily conveys ideology on the sly, but Spectre seems to have broken new ground when it comes to state generated propaganda.
It is unprecedented for an American motion picture studio to have taken large amounts of foreign money in exchange for rewriting a film. The Webster dictionary defines propaganda as 'ideas or statements that are often false or exaggerated and that are spread in order to help a cause, a political leader, a government, etc.' If one thinks about it for a moment, that entails quite a bit of what we experience in today's modern society, including our cultural preoccupations. Spectre certainly fits the bill."

Diego Rivera mural blocked from public view! (2015/09/29)
"As a working painter and printmaker in Los Angeles, I write this open letter on the subject of Change the World or Go Home, an installation of scaffolding and fluorescent lighting by Mexico City-based artist Alejandro Almanza Pereda, now on exhibit in the SFAI's Diego Rivera Gallery.
I write to express my dismay that Mr. Pereda's installation unnecessarily blocks public viewing of Diego Rivera's 1931 mural, The Making of a Fresco Showing the Building of a City. I also have misgivings about Pereda's installation being placed so close to Rivera's delicate fresco mural; I believe it poses a threat to the mural's preservation. More to the point, I hope to explain why I believe that Pereda and the SFAI have denigrated the legacy of Rivera and his fresco mural."