El Retrato de Linda Christian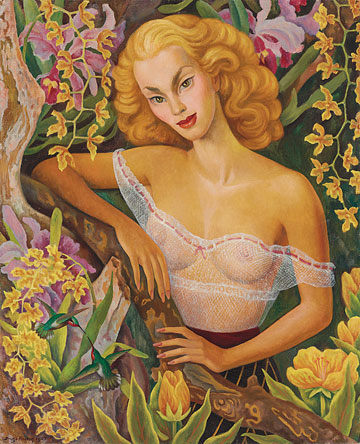 El Retrato de Linda Christian (Portrait of Linda Christian) has until recently been an oil painting by Diego Rivera that was virtually unknown to the general public, especially outside of Mexico.
On Nov. 20, 2012, the painting was exhibited for the first time at Christie's auction house in New York City. But who was Linda Christian, and how did Rivera come to paint her portrait? Let me begin with a few biographical details on Christian.
In 1923 Blanca Rosa Welter was born in Tampico, a port city in the state of Tamaulipas, Mexico. As fate would have it, just after she graduated from high school she met the Australian-American actor Errol Flynn, who was filming in Acapulco. Flynn became the young woman's lover and persuaded her to come to Hollywood to pursue an acting career. Not long after her arrival in Tinsel Town, Louis B. Mayer's MGM studio gave her a seven-year contract.
Mr. Flynn suggested a stage name for her; in 1933 he had played the character of Fletcher Christian in an Australian cinematic version of Mutiny on the Bounty, so Señorita Blanca Rosa Welter became Linda Christian. Thus began Blanca's wild Gringolandia adventures.
Linda Christian made her U.S. film debut in the 1944 musical comedy Up in Arms, starring Danny Kaye and Dinah Shore. She played minor, decorative roles in other films, like the 1947 Green Dolphin Street starring Lana Turner, where she played a maid to Turner's character. In 1947 Christian took a starring role in the film Tarzan and the Mermaids, the last of 12 Tarzan movies starring Johnny Weissmuller. The film was shot in Acapulco, and it was during this time that Rivera met the young star and painted her portrait.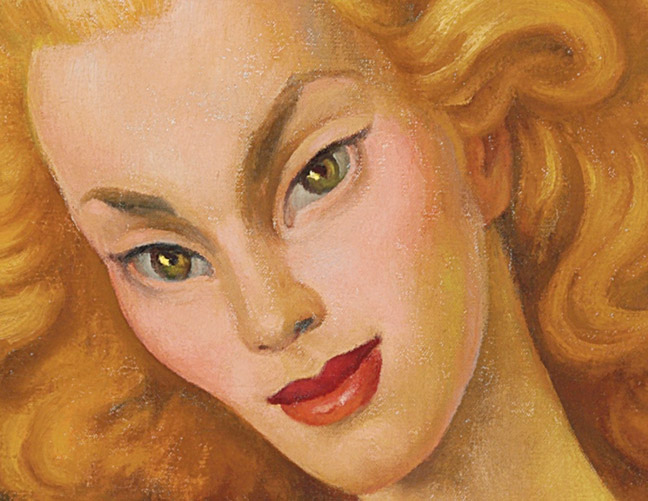 Lana Turner was romantically involved with the popular American actor Tyrone Power, who as fate would have it, met and had his heart stolen by Linda Christian instead while visiting Rome in 1948.  Power, the 35-year old "handsome leading man," married the lovely 26-year old starlet Linda Christian in a church in Rome, Italy on Jan. 27, 1949; the ceremony was attended by some 10,000 adoring fans. The press called it the "marriage of the century."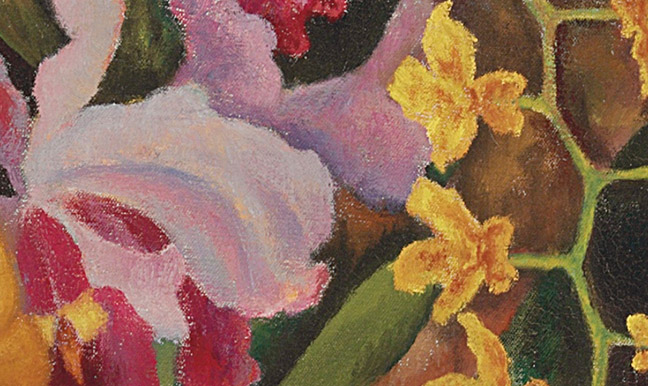 Christian's last claim to acting fame was her role as the very first "Bond Girl," appearing as "Valerie Mathis" in a 1954 TV adaptation of Ian Fleming's James Bond story Casino Royale. Eight years later Swiss actress Ursula Andress was inaccurately proclaimed to be the first Bond Girl for her role as "Honey Ryder" in Dr. No (starring Sean Connery). In 1959 the Celebrity Register summed up Christian's acting career with the following: "With a sixth sense for publicity, she parlayed a small talent for acting into an international reputation as a femme fatale."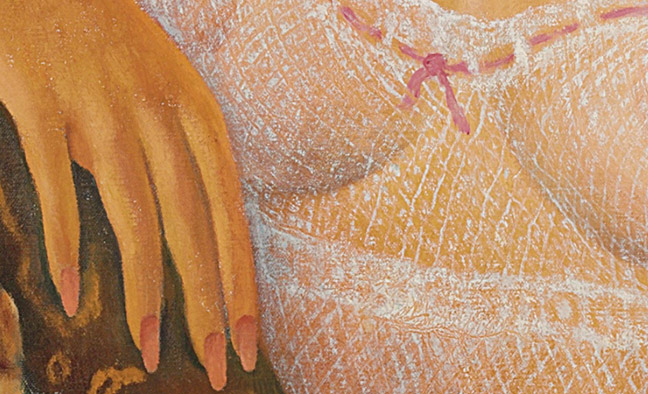 In '47 Rivera painted the young actress as a nude figure, but Christian's mother objected, insisting that the artist cover up her daughter's bare breasts. A compromise was reached when Rivera painted a delicate but highly transparent lace blouse on the young woman's torso. Honestly, I cannot imagine the alteration satisfying the mother one bit; it only heightened the eroticism of the portrait.
Talking heads and so-called art world "experts" have commented that Rivera's use of the "kissing" hummingbirds was a sexual metaphor.  The depiction of the birds supposedly "exploring the internal cavities of flowers," is said to be a subtle sexual reference.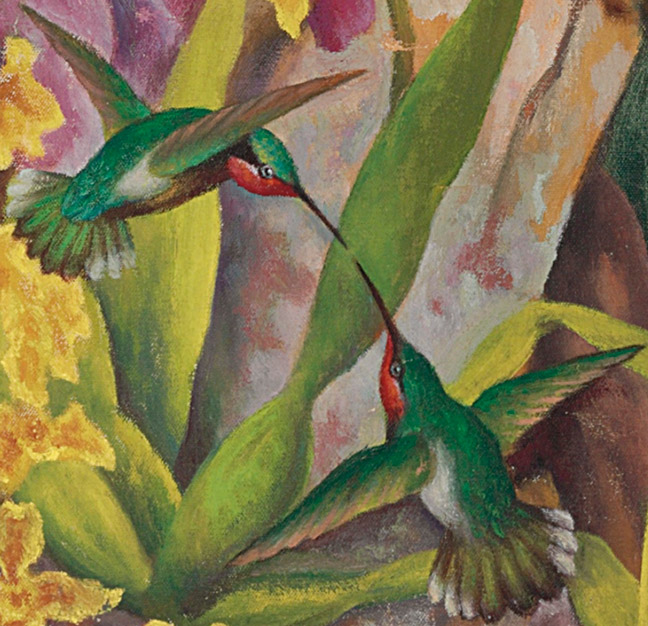 As an avid bird watcher I would like to point out that the pair of Ruby-Throated Hummingbirds shown are both males, and that they are not probing the internal cavities of flowers, but rather are displaying the typical male fighting posture of the aggressive and supremely territorial hummingbird.
There is another aspect to Rivera's hummingbirds that escapes non-Mexican viewers of the painting. Rivera's love of indigenous Mexico is well known, and he inserted pre-Columbian symbols and legends into his works at every opportunity. One of two supreme deities worshipped by the Aztecs was the war god named Huitzilopochtli (in English, Hummingbird on the left). If you have ever seen male hummingbirds ferociously clashing to protect their territory, you will understand why the Aztecs adopted the diminutive bird as the emblem for their war god.
In the Aztec pantheon of gods, Huitzilopochtli was represented by the image of a hummingbird. The Aztecs made no stone, clay, or wood artifacts of the god, making 3D ritual objects of him only from corn, amaranth, and seed paste. However, hummingbird representations of the deity survived the ages in Aztec mosaics, paintings, and murals. The Aztecs believed the soul of a warrior who died honorably in battle would be reborn as a hummingbird to enjoy eternal bliss. You could say that the birds in Rivera's painting are two such souls in paradise, or that they were fighting over the enchantress, or both.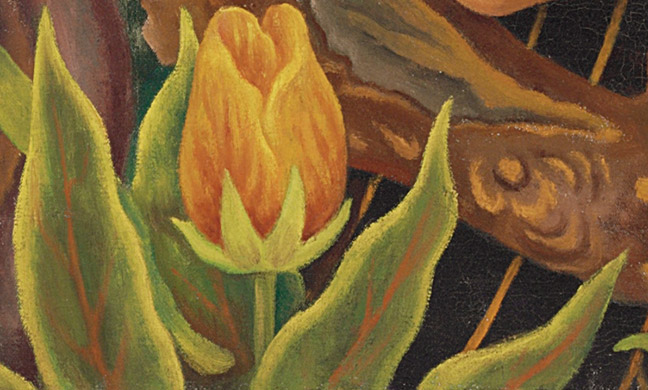 Ms. Christian commissioned the painting from Rivera, and thus was the original owner of the portrait. It was never exhibited to the public and only seen outside of Christian's home when she reproduced it as the cover art for her 1962 autobiography, Linda, my own story.
I do not know how or why, but the painting eventually became the property of Baron Enrico di Portanova, a rich playboy jet-setter that attained his vast fortune through an oil inheritance. Portanova maintained an enormous villa in Acapulco he named Arabesque, the château had 28 bedrooms, 4 swimming pools, indoor waterfalls, a nightclub, and more, including a guard tower with machine-gun toting thugs.
At Arabesque the Baron regaled his coterie of celebrity stars, moneybags, and assorted politicians with endless galas and banquets… even fêting the ignoble Henry Kissinger with Champagne and caviar.  It is distressing to imagine that El retrato de Linda Christian might have watched such dirty dealings from a prominent wall in the lavish mansion. Oh pobrecito Diego, this is why Siqueiros berated easel painting!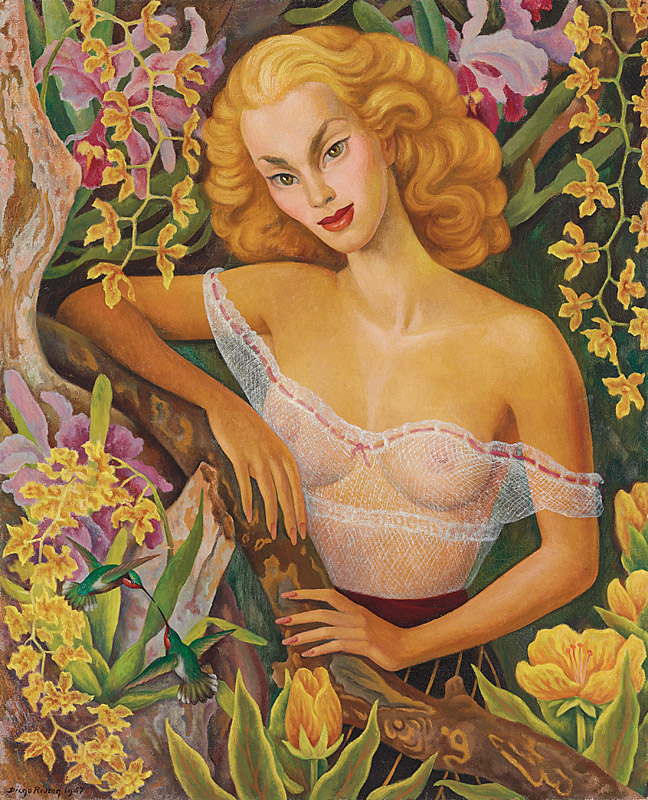 The Baron died of cancer in March 2000 at the age of 66. Linda Christian died from cancer on July 2011 at the age of 87.
In November 2012 the di Portanova estate put Portrait of Linda Christian up for sale at Christie's, where it was briefly exhibited at the auction house's showing of Latin American art before it went under the gavel. The painting sold to an unidentified Mexican buyer for $578,500. If there was any justice in the world, that buyer would loan or donate the painting to the new Casa de los Vientos Diego Rivera cultural center planned for Acapulco, Mexico, where it could be adored by the viewing public forevermore.
As it stands, the painting has once again disappeared from public view, slipping back into obscurity as an expensive trophy in a private collection. Oh pobrecito Diego. ¡Oh pobres de nosotros!