All is Forgotten – Todo está Olvidado
Todo está Olvidado (All is Forgotten) is a subversive cartoon one can properly call satirical. It is currently "trending" on the Mexican twitter-sphere, though I have been unable to ascertain just who created it, aside from its being signed by someone named "Alex." The Mexican artist alluded to the January 14, 2015 "survivors issue" of Charlie Hebdo published in the aftermath of the terrorist attack on that publication's Paris headquarters and the heinous murder of its staff.
The provocative cover of the Jan. 2015 survivors issue was drawn by Hebdo staffer Renald "Luz" Luzier, and featured a cartoon of the Prophet Muhammad; a single tear falls down his cheek while he holds a sign reading Je Suis Charlie (I am Charlie). The words Tout est Pardonné (All is Forgiven) float above his head.
The Mexican artist Alex mimicked the rough and ready style of the French Luz, but instead of sending a flaming arrow at the heart of Islam and all of its believers, Todo está Olvidado depicts a simple cartoonish Mexican worker, a tear of grief rolling down his cheek. He holds a sign that reads: I am Mexico. Totally standing the Hebdo cover on its head, the text floating over the sombreroed head of the worker reads, All is Forgotten – as in erased, omitted, blotted out, unrecalled… and consigned to oblivion. But what has Mexico and the rest of the world forgotten?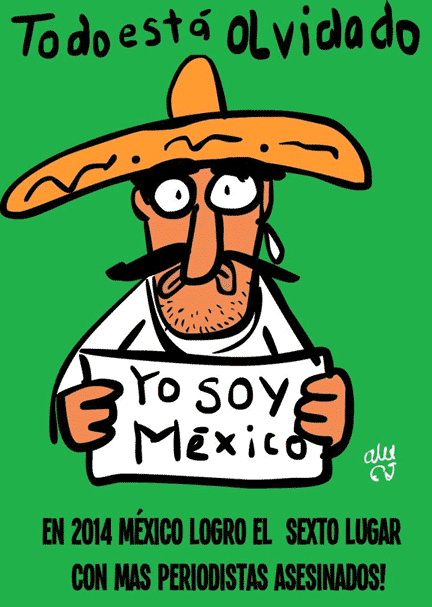 The answer is in the text at the bottom of Alex's sketch, which translated into English reads, "In 2014 Mexico attained sixth place with more journalists assassinated!"
Contemporary Mexicanos intrinsically understand the mockery, for if there is anything more dangerous to be in Mexico than a student, it is being a journalist.
The artwork Todo está Olvidado is only slightly inaccurate when it comes to Mexico being ranked the sixth most dangerous place for journalists to operate in 2014, otherwise it is based on solid facts.
When eight Mexican journalists were assassinated in Mexico in 2010, and many others were threatened or disappeared, Pen Center USA held an evening of solidarity with Mexican journalists titled, State of Emergency: Censorship by Bullet in Mexico. Things have only gotten much worse since then.
In 2014 the International Federation of Journalists (IFJ) located in Brussels, Belgium, released a report that stated 118 journalists and media staff were killed doing their jobs in Pakistan, Syria, Afghanistan, Palestine, Iraq, Ukraine, Honduras, and Mexico. Pakistan rated the highest, with 14 journalists killed. Ukraine actually took 6th place for journalists murdered, while Mexico took 8th place… with 5 journalists murdered.
However, Spain's newspaper of record, El Mundo, reported on July 17, 2014, that since the year 2000, over one hundred journalists and media workers have been assassinated in Mexico… and the list keeps growing. On Jan. 26, 2015, it was reported that the Mayor of Medellin de Bravo, a town in Mexico's Veracruz state, is under arrest along with several corrupt policemen for the kidnapping, decapitation, and mutilation of journalist José Moisés Sánchez. Since 2010, 11 journalists have been murdered in Veracruz alone.
Mexico Is a Killing Ground for Journalists is a report from VICE News that quotes Jorge Carrasco, a reporter for the Mexican newspaper Proceso. In 2012 Mr. Carrasco received death threats while investigating the assassination of a fellow Proceso journalist. He put it this way: "Mexico is not a democratic country, because journalists wouldn't be forced to work in conditions like this if Mexico was a democracy."
The massacre of 12 cartoonists in Paris (there were 6 other victims as well) by reactionary "Islamic" extremists was rightly condemned, not just by the French, but by people around the world. The attack on Charlie Hebdo was seen as an assault on free expression. As an artist whose works are given to social criticism, I have always been a defender of freedom of speech and freedom of the press. On Jan. 11, 2015, more than a million people took to the streets of Paris to hold a "unity march" opposing terrorism. I was moved to see the tools of my profession, the pen and the pencil, held defiantly in raised fists during the protest; suddenly the world was seeing the artist's pencil as I have always seen and used it… but I am left with some difficult questions, only two of which I will put forward here.
The Paris unity rally was attended by 44 foreign presidents and prime ministers. They linked arms and led the march for the 12 murdered staff members of Charlie Hebdo and the 6 other victims. I cannot help but wonder when these same world leaders will march in Mexico to honor the more than 100 journalists who have been assassinated, and to demand an end to the Narco State masquerading as a government that put them in their graves.
When will the international corporate press popularize the phrase… Je suis Ayotzinapa.