Revisiting Slash: Two Punk Requiems
This essay concerns Revisiting Slash: The Five Best OC Punk Articles From One of LA's Original Punk Zines, written by reporter Frank John Tristan and published in the OC Weekly on October 3, 2017. The alleged subject of the article was how SLASH Magazine covered the early punk bands of the beachside Southern California community of Orange County.
I happened upon the story quite by accident, and was taken aback to find one of my cover drawings for SLASH featured uncredited as the lead illustration. Be that as it may, when I began to read the piece my blood began to boil since it made the ludicrous accusation that SLASH Magazine published "Nazi rapist bullshit."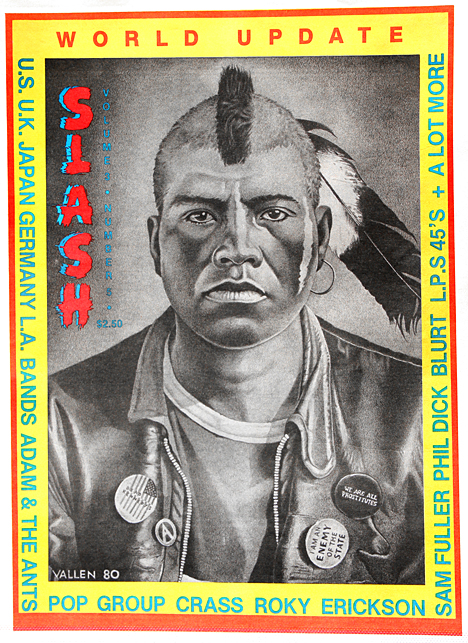 I write my rebuke to Revisiting Slash as an aging punk rocker who worked at SLASH Magazine from 1979 to 1980 as a designer and production artist.
Ultimately I created two cover illustrations for the magazine, a 1979 drawing titled Sue Tissue (a portrait of the vocalist for the Suburban Lawns band) and the aforementioned 1980 cover, Come Back to Haunt You.
I also worked on The Decline of Western Civilization (watch it here), the original 1981 documentary film by Penelope Spheeris that focused on the initial Los Angeles punk scene.
Much has been said of late regarding the demise of journalism and the rise of "Fake News." I submit to the reader that Revisiting Slash is a prime example of both. While the minutiae of Los Angeles punk history might seem little more than trivialities to some, those chronicles are noteworthy details in the history of the late 20th century. As CNN, the exemplar of fake news likes to say, "Facts First."
As I write this article, OC Weekly reporter Frank John Tristan is 22-years-old, meaning he was born in 1995, long after the events at SLASH he wrote so authoritatively about had occurred. This is not to say that a writer far removed from historic events cannot write about such things with veracious accuracy… it's just that Tristan is not that writer.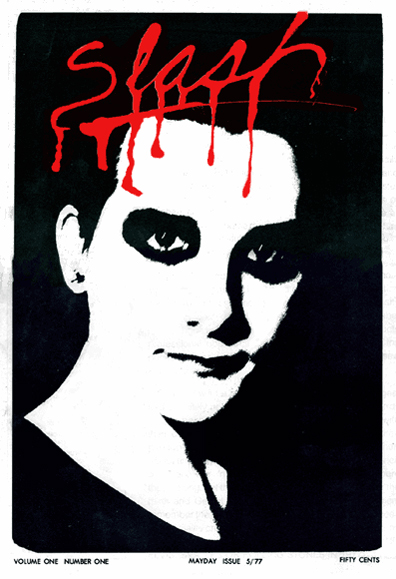 In the opening paragraph of Revisiting Slash, Tristan states that SLASH "quickly rose from interviews with L.A. bands like The Damned"—with this one colossal faux pas the reporter's credibility vanished.
The Damned were one of a handful of punk bands to rise from London's decay in 1976. They were the first U.K. punk band to release a single (1976), an album (1977), and the first to tour the United States (also in '77).
Their Los Angeles visit helped detonate the city's punk movement; in the wake of their visit SLASH emblazoned the cover of its premiere Mayday issue with an eerie photo of the band's lead vocalist, Dave Vanian. SLASH Magazine co-founder Melanie Nissen took that photo.
The Damned, I might add, are still active and quite well known.
I think the reporter gathered info for his article with the one essential tool every new writer now inordinately relies upon—Google searches. I do not mean to imply that Google-fu could not have resulted in a decent piece of journalism; nevertheless, there is the Google search performed by a wizard and the one conducted by a neophyte.
The reporter, name dropping like a celebrity news gossip columnist, but without any clarity whatsoever, muddled through dumbfounding anecdotes guaranteed to flummox anyone not familiar with the fine points of L.A.'s punk history. Here is one offending passage, followed by my key to parsing its meaning;
"Unfortunately, while Lisa Fancher says the zine put the Middle Class on her radar, she believes that the zine proved non-influential in the OC scene and Ronnie 'Posh Boy' Fields agrees with her. Fields even claims Craig Lee tried to get Red Cross not to sign a record deal with his label and calls Slash a '(failed) commercial venture masquerading as a fanzine.'"
This is the open door to understanding the mishmash above; Lisa Fancher is the founder of the punk rock label Frontier Records; Middle Class is one of the first hard core punk bands from Orange County; Craig Lee was the guitarist for the Bags (one of L.A.'s original punk bands) and later worked for SLASH; Robbie Fields is founder of the influential Posh Boy Records and a punk rock personality whose name Tristan insultingly couldn't spell properly ("Ronnie Fields"?), and Red Cross was a punk band on the Posh Boy label. The OC Weekly apparently doesn't employ editors anymore, or perhaps they were all out skateboarding when the reporter submitted his article for editing.
Ironically Robbie Fields is an associate of mine. When I saw Robbie's name mutilated in the article, I could not trust that words were not being put in his mouth, so I asked Robbie about the article. The posh one clarified that he had informed the reporter in writing, "SLASH had no influence on MY signing OC bands", which is substantively different from saying SLASH was "non-influential in the OC scene." Besides, Robbie told me, "SLASH had stopped publishing before I hit my stride in Orange County."
Robbie confirmed that he did tell the reporter "SLASH was a (failed) commercial venture masquerading as a fanzine," a statement I don't disagree with but one that needs context. The magazine was always a dual entity. One side thought it a money making pursuit and a springboard to becoming an alternative record label; the other side was a bunch of scruffy punks who just wanted to run an iconoclastic punk fanzine. It was a sad day when SLASH Magazine forever closed its doors as a weirdo bohemian zine and fully transmogrified into a commercial record label. Los Angeles lost a truly unique contrarian voice.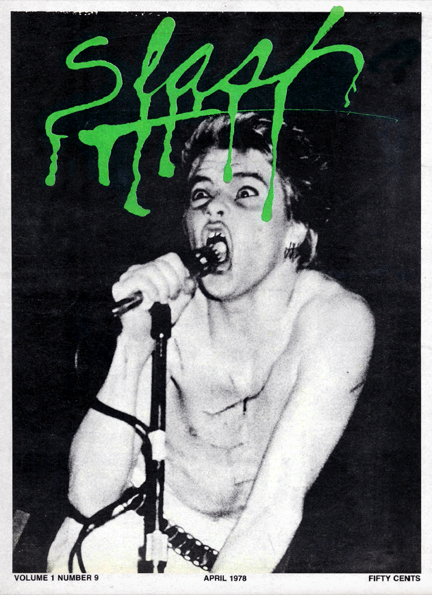 However, the actual sum and substance of my authoring this article is to denounce the insinuation made in the pages of the OC Weekly, albeit through the words of none other than The Simpsons creator Matt Groening, that SLASH was guilty of publishing "Nazi rapist bullshit." I have stood against racism and sexism my entire life, and my works as an artist bear this out. I am greatly offended by this ahistorical scandalmongering by the OC Weekly, and yes, I do take it personally.
Matt Groening sent his poison pen letter to SLASH in 1978 when he was decidedly not famous; he was working at the now defunct Los Angeles Reader alternative newspaper answering phones and delivering papers. He would not grab notoriety until 1980 when the Reader would publish his first cartoon strip, Life in Hell.
The Revisiting Slash article republished an undersized and barely legible archival reproduction of Groening's letter to SLASH; the reproduction included SLASH's rebuttal to Groening's accusations. The OC Weekly retyped Groening's letter in standard size legible type and featured it so that it could be read without squinting, allowing readers to savor it for its broad-mindedness. SLASH's rebuttal was afforded no such treatment, disallowing any response to allegations of wrongdoing. Here's Groening's letter in its entirety:
"This is a short letter of appreciation for your magazine… your graphics are really hot stuff – my compliments to the chefs. And your snotty tone is perfect – good, clean, pissed-off alienated humor is something we all need more of.

My only criticism is that too often your articles glorify the misogynistic attitudes of young male cretins, and too often SLASH seems to endorse these repugnant attitudes. Sexism pervades our culture, and I applaud your disdain and cynicism, but rapist humor is as traditional and predictable as everything you oppose, and I think you should have brains enough to rise above it.

Your magazine is not particularly guilty of Nazi/rapist bullshit, but it is typically guilty of it, and that kind of normality is especially disappointing.

Sincerely

Matt Groening"
If Groening's letter had absolutely nothing to do with the subject of early punk bands in Orange County and the coverage SLASH gave them, then why did the OC Weekly mention Groening at all? I'm afraid fawning celebrity worship of the worst kind is the cause; The Simpsons franchise has garnered Groening a net worth of $500 million.
Since the OC Weekly couldn't be bothered to include a readable version of the SLASH rebuttal in their Revisiting Slash article, I offer one here:
"Okay, hold on. What Nazi rapist bullshit?? In the graphics? The text? Anyway, there are almost as many girls involved with SLASH as guys; not one of them thinks SLASH is misogynistic (how many music papers feature as many girls as boys on their covers??) and not one of them is what you'd call a young female cretin. Bet you see sexism everywhere. You're probably right, it might be everywhere. In our case, though, what you spotted as sexism or whatever was most likely a little loose chunk of a much bigger piece called contempt for ALL forms of nice proper civilities. We regard women (punks) as totally equal to men (punks) (don't know about your circles) and therefore equally subjectable to abuse, insults and other forms of communication. —Ms. KickPerson Face"
A charge of misogyny is made by a man, and while unsubstantiated it is given prominence in Revisiting Slash, while the denial of sexism made by a female SLASH staffer is ignored. And the OC Weekly wants to cry about sexism?
Who was this enigmatic "Ms. KickPerson Face" she-devil? Her real name was Philomena Winstanley, and when she declared "there are almost as many girls involved with SLASH as guys" she didn't mean they were there to serve coffee. Philomena was a mover and shaker, an editor at SLASH, and also the partner in crime and wife to Claude Bessy, editor and chief writer at SLASH. Bessy took his nickname, Kickboy Face, from the title of a song by Jamaican reggae performer Prince Jazzbo; hence Philomena's moniker.
To be entirely honest Bessy's sneering impish humor might have lead him to compose the rebuttal and sign it "Ms. KickPerson Face" as a taunting joke. I really don't know if that's the case, but it is clear that whichever part of the dynamic duo wrote the comeback, it was truthful and genuine.
The reporter attempted to support Groening's accusation that SLASH was publishing "Nazi rapist bullshit" by listing SLASH artworks and articles he found in the Circulation Zero online archive. He wrote, "Maybe it was the Gary Panter drawing in Vol. 1 # 2 with the text suggesting a nude tied up woman was being beaten" followed by, "or maybe it was the image of the band Fear playing in a house with a distraught woman tied up with a ball gag in her mouth in Vol. 1 #9." The reporter implies that "offensive" works of art should not be published, but who rules what's objectionable, and what happens when censorship gets going?
I wonder how the words "with the text suggesting" would hold up in a court of law? But then this is not a court of law, this is trial by media. I also wonder how cartoonist Gary Panter would react to the charge that he created "Nazi rapist bullshit" for SLASH, especially since he was honored at the Jewish Museum in New York City in 2006. Groening's accusation was ridiculous in 1978, but to see it repeated in today's pages of the OC Weekly is even more absurd. Liberals have shamelessly pinned the "Nazi" epithet on so many people that the word is losing its meaning. It is grotesque that the OC Weekly has reached almost forty years into the past to besmirch SLASH Magazine with that ugly epithet.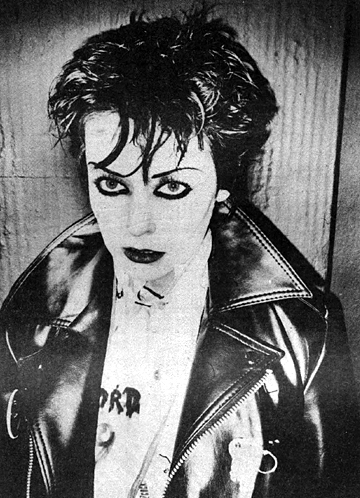 One of the things that impressed me the most about punk was the number of young women involved; contributing as performers, scenesters, writers, photographers, artists, band managers, and more; they all passed through the doors of SLASH. The women fronting or participating in punk bands were legion; Poly Styrene (X-Ray Spex), Dinah Cancer (45 Grave), Wendy O. Williams (Plasmatics), Eve Libertine and Joy De Vivre (Crass), Poison Ivy (The Cramps), Penelope Houston (The Avengers), Exene Cervenka (X)… too many to list here, and SLASH loved and respected them all. Compared to the Heavy Metal scene and the mainstream rock world in general, punk was a liberated zone for females.
As for the band FEAR, they let loose on everyone under the big black sun; like every good punk band, they served as a tarnished mirror that reflected back upon society all of its odious disgraces. FEAR "entertained" with an ominous brand of punk theatrical shtick; but those who believe stage actors are really the characters they play are little more than simpletons. In the event that you were disgusted and outraged by the antics of FEAR, well… that was the desired effect.
I hate to break it to everyone, but long before the poseurs of Green Day graced the stage of the corporate American Music Awards in 2016 there was a vulgar, impolite noise called punk. Shock, offensiveness, and crassness were its core aesthetics—for pity's sake there was even a band named Crass. The expression "politically correct" had not yet found its way into the common vernacular, but bourgeois society had rules for social conduct and punk was hell bent on upending them.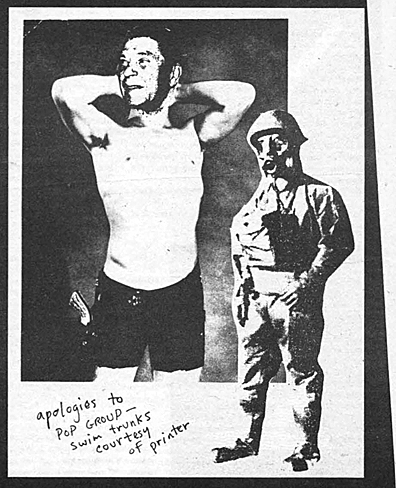 I recall the 1980 interview SLASH conducted with a U.K. band called The Pop Group. A favorite of mine at the time, the outfit blurted out a dark ethereal mix of punk, dub reggae, jazz, and funk rhythms, all densely wrapped around ecstatically radical political lyrics.
To illustrate their interview with us they sent a black and white photomontage of a naked then-presidential candidate named Ronald Reagan standing with a WWI soldier wearing a gas mask.
We were a pretty jaded crew at SLASH, so I don't recall the graphic causing much fuss; we simply laid out the magazine and sent it to the print company for its print run.
The next day there was great consternation in the SLASH office when the print company sent the unprinted pages back to us with a notice that they refused to print the paper as long as the naked Reagan was included. Panic ensued! We worked out a deal… we painted black shorts on Reagan's likeness. Kickboy hand wrote on the graphic an apology to The Pop Group for altering their art, and the print company completed their job. The eager punk masses received the somewhat late, albeit final edition of SLASH Magazine.
Now I ask you, does that sound like the work of Nazi rapists?
Here's what's generally misunderstood about the original Los Angeles punk scene, it wasn't a politically correct, structured "safe space" for virtuous do gooders; it was a wide-open, no holds barred, chaotic experimental zone for free thought and action—at least in its beginnings. Punk was streaked with nihilism and violence, but it also proffered creativity and a deep humanism. It was not monolithic in nature, but comprised of numerous layers, where adherents had divergent beliefs and styles. What united this congregation of castaways was a sense of community found in our music and antiauthoritarian attitudes. Punks initially hated corporate record labels, misbegotten celebrity, and staid conformity. Kickboy gave a fair description of SLASH when responding to a letter sent to the magazine; "Yea, I know, anarchy ain't what it should be. But listen, we are not going to take anyone by the hand and tell them what to destroy, what to read, who to hate. We are not a party, a cell or an underground brigade."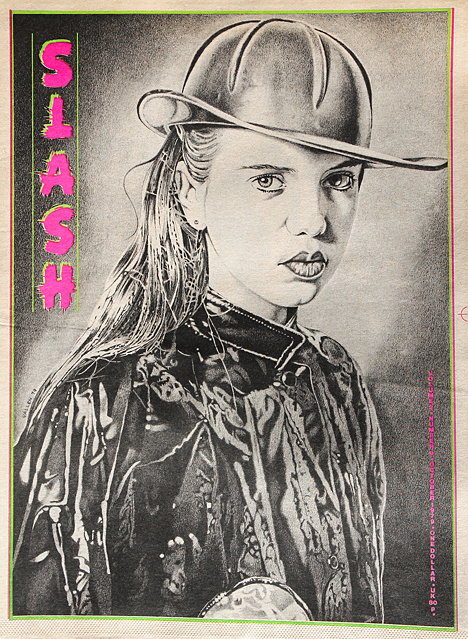 As I've grown older, my view of the punk scene has been altered by the light of day. Truth be told, there were things about L.A.'s punk underground that I didn't care for (including a creeping "group think" expressed in dress and behavior), just as there were individuals in the scene that I disliked—some quite intensely; but then I was not required to like them.
A few characters have unwisely written books purporting to be the definitive overview of punk, and of course the legacy media has lied about punk since its inception. Forget them. If you want to know about the early days of punk, oh heck… if you want the truth about anything, go to multiple primary sources, study, analyze, and then make up your own mind. With this article I have offered a short synopsis of my experiences at SLASH, take them as you will.
The OC Weekly's intimation that those associated with SLASH Magazine were "Nazi rapists" certainly comes from a place of bottomless ignorance; the best that can be said of their article is that it is a noxious piece of character assassination based upon identity politics. I do not ask for nor expect apologies from the OC Weekly; I have not written this essay as a corrective to the Weekly's staff. I am writing for those who want to know the realities behind early Los Angeles punk and its bygone standard bearer SLASH, the monthly manifesto of angry refusal.