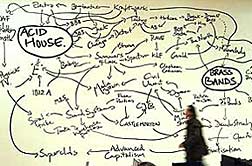 On December 6th the British Tate Gallery will be announcing its winners for this years celebrated Turner Award. Of the artists on the short list to fame and monetary reward (around $48,000 US), not a single painter appears. Most of the postmodern conceptualists in the running have entered video installations. We're told that politics abounds in the entries… as with the interactive video from Langlands and Bell, The House of Osama bin Laden. That exercise in tedium allows viewers the use of a joystick to walk through a digital representation of the terror master's abode. Big deal.
Jeremy Deller is favored to win the Turner prize for his short video about Texas, Memory Bucket. Deller says that he is "not a technically capable person," and by his own admission "couldn't draw, paint or sculpt" in art school. Deller's apparent lack of traditional artistic skill is mirrored by his politics. Hailed by some intellectuals for his supposed left-wing bent, Deller strikes me as being merely excruciatingly patronizing.
The incoherent map scribbled on the walls of the Tate especially for the competition is proof enough of that. The rambling chart titled The History of the World purportedly links acid house music and working class brass bands through scrawled words and meandering arrows. It doesn't take much to impress apolitical intellectuals these days.
Meanwhile the Stuckists, the art world's very own "reality based community" of realist painters, are gearing up for a Dec. 6th. demonstration in front of the Tate. They'll be there to denounce the proceedings and the folly of postmodern orthodoxy. Known for their wittingly antagonistic catchphrase "Artists who don't paint aren't artists," they're sure to be unwelcome guests.