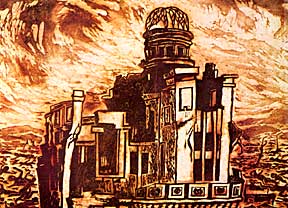 August 6th, 2005, marks the 60th anniversary of the atomic bombing of Japan. August 9th, marks the bombing of Nagasaki.
Those who survived the blasts became known as hibakusha (Atom Bomb Survivors), and in 1974 the hibakusha began contributing artworks to an unusual project that would preserve for the world their memories of atomic fire.
The Nippon Hoso Kyokai (NHK – Japan Broadcasting Corporation), encouraged hibakusha to submit original artworks based on personal experiences of having survived the nuclear bombings. Soon thousands of drawings, paintings and woodblock prints began arriving at the offices of NHK, and an exhibition of the collected paintings and drawings was mounted at the Peace Culture Center of Hiroshima in 1975.
In 1984 I had the distinct honor of organizing an exhibition of these remarkable paintings in an exhibit I curated at a venue in Venice California. I received some 30 images from Japan that had at the time, rarely been seen in the United States.
Since then the NHK/hibakusha artworks have been compiled into several books and traveling exhibitions. To commemorate the first, and hopefully last atomic war, I've recently expanded the archive of hibakusha artworks I maintain on my Art For A Change website.