Review: "The Art of California Labor"
At Work: The Art of California Labor, opened with a fabulous Artist's Reception on June 17th, 2006. Well over 500 art lovers from all over Southern California and beyond made their way to the event at the historic Pico House Gallery in downtown Los Angeles, located on the founding avenue of the city, Olvera Street. At Work is of course an artistic chronicle of labor in California, and a large part of the evening's festivities were about celebrating that history – not a dead past, but a living history that continues to evolve and grow. To make its point, the exhibit presents a balance of paintings, prints, and drawings alongside a number of photographic works – with contemporary artworks shown alongside creations from times past.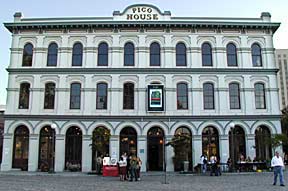 [ The historic Pico House, a grand venue for the At Work exhibition. ]

A good portion of the artworks in the At Work exhibit are by Latino artists and focus on Mexican American workers, who have undeniably played a major role in the saga of California labor. Their contributions as told through the eyes of artists are well represented in the exhibition; from the varied silkscreen prints celebrating the United Farm Workers, to the latest installation piece by Ricardo Duffy commemorating L.A.'s million person march in support of immigrant worker's rights.
At the opening I had an opportunity to talk with one of the show's exhibiting photographer's, Gil Ortiz. He told me about the photograph he had taken in 1974 of an agricultural worker bent over in back-breaking labor, digging in California's fields with a short-handled hoe, a tool that caused arthritis of the spine and ruptured spinal disks for those who used it. The New York Times picked up and published Ortiz's photo for an article about California's United Farm Workers union. Of his photo, Ortiz said: "In one picture, I sought to capture the inhumanity of 'el cortito', the crippling short-handled hoe that had come to symbolize stoop labor and the cruel exploitation that the farm workers were fighting. My work follows one history in the tradition of documentary photography, that of allowing images to capture the inhumane treatment of human beings, particularly the exploitation of labor for profit."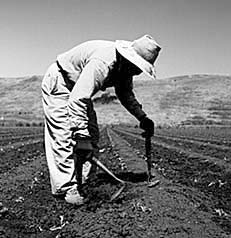 [ Gil Ortiz's famous photo of an agricultural worker stooped over in the fields ]

The Pulitzer Prize winning cartoonist for the Los Angeles Times, Paul Conrad, saw Ortiz's photo and based a cartoon upon the arresting image, giving the photographer full credit for inspiring the drawing. Conrad's cartoon depicted a farm worker as the victim of a violent crime, showing the laborer lying face down amid cultivated rows of crops – a hoe brutally stuck into his bloodied back like a spear. Ortiz's photo and Conrad's cartoon brought attention to the misery of agricultural workers, and finally in the mid-70's the California Supreme Court banned the use of the tool. I'm continually asked if art makes a difference, if it's a force capable of changing society, and if it has any power at all outside of itself. I can think of no better example of art's transformative energy than Gil Ortiz's photograph – and this exhibit is filled with such images.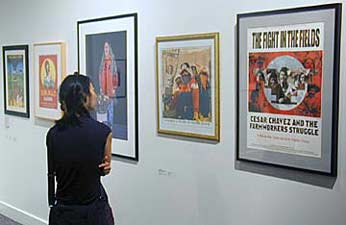 [ Viewing historic Chicano posters from the 1970's at the Pico House ]

At Work is not just a consideration of Latino workers and the art created about them, it is after all dedicated to the entire working class in all of its diversity. Some of the strongest artworks in the exhibit were created by those American artists belonging to the social realist school of the 1930's, when art and social concerns were inextricably linked. There is much to be learned from the social realist artists of the 1930's, and if just a tiny amount of their idealism, commitment, and vision were to rub off on us we'd all be better off.
Of particular interest to me are the two photographs on display by Dorothea Lange, a personal hero of mine. Her photos are of factory workers leaving their shift, exiting their workplaces en masse, tired looking but also proud, possessing an inner strength that makes them appear implacable. Gazing at the workers in Lange's photos, looking smart in their work clothes and wearing optimistic faces or grim expressions – I was overwhelmed with empathy, but also struck at how different U.S. workers seem today. Solidarity, my own painting on display in the exhibit, in part addresses that dissimilarity – but globalization, technology, and other changes in the work environment not only continue to place great pressures upon labor, they challenge artists to comprehend and help make clear the evolving situation.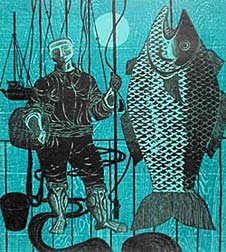 [ Fisherman – Serigraph by Louise Gilbert, 1950 ]

At Work almost serves as a study guide when it comes to introducing artists from the 1930's like Louise Gilbert, Consuelo Kanaga, Fletcher Martin, Emmy Lou Packard, Henrietta Shore, and others who created profound images focusing on workers, the poor, and the disenfranchised. But this part of the exhibition is ironically its weakest point. The traveling exhibit was originally put together by the California Historical Society and the San Francisco State University Art Gallery, and it includes a few digital replicas of historical works that frankly could have been better reproduced. The curators of the Pico House exhibit, Marianna Gatto and Shervin Shahbazi, made up for this flaw by bringing in a number of local and national artists to enhance the core traveling exhibit – an augmentation that makes the show stand out.
On Saturday, July 15th, I'll be presenting an artist's panel discussion and slide show at the Pico House Gallery on the history of artist's responses to the issues of labor in California. I'll be joined by photographers Sheila Pinkel and Slobodan Dimitrov, who have long careers photographing workers on the job and in union organizing activities. A question and answer roundtable with the panelists will follow the lecture. For more information on At Work, including a full listing of participating artists, a schedule of public events, and maps to the Pico House, please visit: www.art-for-a-change.com/exhibits/atwork.htm.