RIP: Ray Lowry – Clash "War Artist"
Artist Ray Lowry passed away this past October 14, 2008, at the age of 64. While touring America with The Clash in 1979, Lowry was nicknamed the "War Artist" by the band's front man, Joe Strummer. The Clash had invited Lowry to tour with them as an official artist when the group made its first incursion into the land of Coca-Cola, and the resulting sketches made by the punk war correspondent were striking. Sadly, it has all come to a most untimely end… but I will never forget the works of "War Artist" Ray Lowry.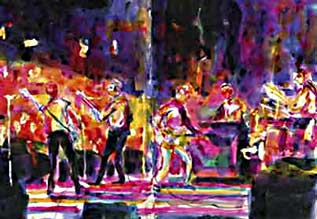 I was at the February 9th, 1979 premiere concert at the Santa Monica Civic Auditorium when The Clash assaulted Los Angeles during their "Give 'Em Enough Rope Tour."
Hollywood's original punk venue and den of iniquity, The Masque, closed for that evening; left hanging on its dilapidated front door was a hand-scrawled sign that informed the club's nonconformist regulars that everyone had gone to see "the only band that matters."
It seemed that every punk within 500 miles attended that landmark concert, which also featured special guest stars Bo Diddley and The Dils (still one of my favorite original 1977 punk bands from San Francisco).
Thinking back to that wonderfully cacophonous show, I cannot help but think of Ray Lowry. He was roaming the concert hall, all the while furiously drawing away in his sketchbook, trying to capture the rage and excitement of it all. Upon returning home to the UK after the tour, he would design the album jacket for London Calling, the Clash's third album. It would become one of his better known images, a brash tribute to Elvis Presley's first album, linking punk to early rock and roll. Later in life Lowry would publish, "The Clash: Up-Close and Personal" a book of sketches made while touring in America with the band in 1979.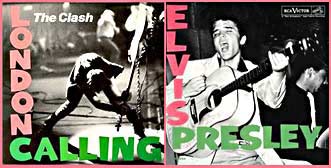 But Lowry was much more than just an artist who worked with The Clash.
He was an accomplished cartoonist, illustrator, painter, and writer who contributed works to numerous English publications, including The Face, Punch, The Guardian, and New Musical Express (NME). In fact, I first become familiar with Lowry's cartoons as they ran in NME during the early 1970s.
A retrospective of Lowry's urban landscape paintings opened in Oct. 2008, for a month long run at the See Gallery in Lancashire, England. Signed Limited Edition prints of his sketches depicting The Clash on tour in 1979 are available on The Hand of Ray Lowry website.