Why Rescue América Tropical?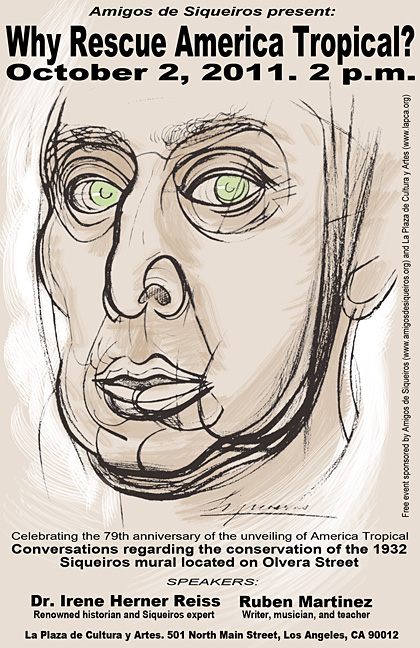 Amigos de Siqueiros are celebrating the 79th anniversary of Siqueiros' América Tropical mural being unveiled on L.A.'s Olvera Street, with Why Rescue América Tropical? – conversations on the protection and preservation of the world famous wall painting.
The speakers at the forum are the renowned scholar and historian Dr. Irene Herner Reiss, and the award-winning journalist, author, and musician, Rubén Martínez.
Herner Reiss consulted the Autry Museum when it mounted its dazzling Siqueiros in Los Angeles: Censorship Defied exhibit of 2010. Her book, Siqueiros: From Paradise to Utopia, is considered a definitive work on the art, life, and times of the artist. Herner Reiss has devoted a large part of her career to the study of Siqueiros, so those attending her lecture are bound to leave with new insights and perspectives.
To Angelenos Martínez hardly needs an introduction; born in L.A., he is a prolific writer, a onetime TV host on the KCET (PBS Los Angeles) public affairs show,  Life & Times, and currently holds the Fletcher Jones Chair in Literature and Writing at Loyola Marymount University in L.A.
In May of this year I was elected to sit on the Board of Directors for Amigos de Siqueiros. Given that the group has as its mission the protection, conservation, and promotion of América Tropical, as well as to uphold the legacy of David Alfaro Siqueiros, I am honored to play a role in the organization.
Co-presented by La Plaza de Cultura y Artes, Why Rescue América Tropical? takes place on Sunday, October 2, 2011 at 2 p.m. at the newly opened La Plaza de Cultura y Artes, located at 501 North Main Street, Los Angeles, CA 90012 (map). The event is free to the public and discounted admission to the center's galleries will be available.
####
UPDATE: Approximately 70 people showed up to the Why Rescue América Tropical event held in an outdoor patio/garden setting at La Plaza de Cultura y Artes. Moderated by Amigos de Siqueiros Co-Chairs Dalila Teresa Sotelo and Dan Guerrero, the speakers roster included some surprise guests.
Chris Espinoza, representing Los Angeles Mayor Antonio Villaraigosa, assured those gathered that the L.A. City government supported Siqueiros América Tropical Mural And Interpretive Center on Olvera Street is on track and making progress. Espinoza reported that initial construction at the center has been completed and that the center's grand opening should be around March of 2012. Los Angeles Councilmember José Luis Huizar also spoke to those gathered on the importance of the Siqueiros mural to the people of Los Angeles.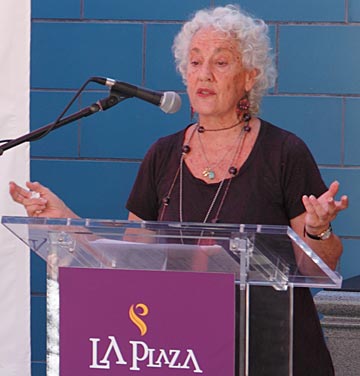 Next on the roster was Dr. Irene Herner Reiss, who spoke with eloquence and great passion regarding the works of Siqueiros, with an emphasis of course on the artist's América Tropical mural.
Herner emphasized that Siqueiros' mural depicted the ruins of Mexico's indigenous civilizations, and that the mural itself was turned into a ruin of sorts when right-wing city authorities saw to its destruction with a coat of whitewash.
But Herner reminded those gathered that great art can spring from ruins, just as classical European art was influenced by the ruins of ancient Greece. She noted that a full restoration of Siqueiros' mural was "impossible", but half-joked that there was nothing "like a strong ghost" to shake things up.
Writer Rubén Martínez and playwright Oliver Mayer then joined Herner in conversation on the legacy of Siqueiros in Los Angeles, a talk that extended to the audience with its many questions and observations concerning Siqueiros and his socially conscious art. Mayer, who wrote the libretto for an opera about Siqueiros aptly titled América Tropical (you can view clips here), directly addressed the many students in the audience – challenging them to use their skills to enact creative social change.
After the event concluded I acquired a copy of Ms. Herner's just released book, Siqueiros: from Paradise to Utopia, and then had the immense pleasure of talking with Herner for a few minutes. While the Spanish language edition of Herner's book was released in 2010, there has yet to be an "official" English language release made available to the public. The book is a veritable treasure trove for those with a thirst for knowledge concerning Siqueiros and the Mexican Muralist School. Expect a full review of this invaluable book in a future blog post.