Poster: I AM NOT THE ENEMY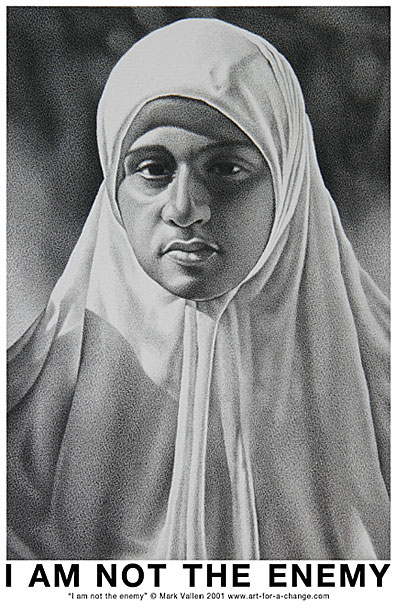 In the immediate aftermath of the terror attacks of September 11, 2001, I created a street poster widely distributed in Los Angeles titled, I Am Not The Enemy.
The poster was derived from an original pencil drawing of mine created in part as a reaction to the murder of a Sikh American man in Arizona, Balbir Singh Sodhi; the killing would be the first post-9/11 violent attack against an innocent civilian on US soil thought to be "the enemy."
Mr. Sodhi owned a gas station in Mesa, Arizona, and he was shot while arranging US flags in front of his business. When arrested, his killer yelled, "I am a patriot!" and "I stand for America all the way!"
Mr. Sodhi's murder was in the context of innocent Muslim Americans being blamed, abused, and assaulted all across the US in revenge for 9/11.
When people are denied the right to worship freely, or are otherwise persecuted because of their faith, democracy is threatened. This principle is enshrined in the First Amendment of the US Constitution's Bill of Rights.
On Sept. 21, 2013, Dr. Prabhjot Singh, a professor from Columbia University, was strolling in New York's Harlem district near the corner of 110th and Malcolm X Boulevard. He was confronted by a crowd of some 20 young men on bicycles, who yelled anti-Muslim slurs at him, shouting "Get Osama," and "Terrorist" before launching a vicious physical attack. The gang pulled Singh's beard, and repeatedly punched and kicked his head and body. Singh might have been killed had it not been for the three good Samaritans that came to his aid to help fight off the hoodlums. The professor's jaw was broken, and he suffered an injury to his lip, multiple fractures, the loss of several teeth, and a puncture wound to his elbow.
Mainstream press reports mentioned that Singh is an adherent of the Sikh faith, and that his attackers had "misidentified" or "mistaken" him as a Muslim because of his beard and turban, as if the beating would have been acceptable had Singh actually been a Muslim.
The press has variously described Singh's attackers as "a group of young men," "a mob," or simply "assailants." However, Singh said of his tormentors, "it was dark, but it seemed like it was young African American men." The Village Voice and BuzzFeed also reported that the attackers were African American. On Sept. 24, 2013 the NYPD released security video of the suspects leaving the scene of the crime, and asked for the public's assistance in identifying those who took part in attacking Dr. Singh.
It's a great tragedy of history that on Malcolm X Boulevard, young blacks would assault a man they thought to be a Muslim. Malcolm X, one of the most outspoken opponents of racism in the US during the late 1950s and early 1960s, was a Muslim. His ideas were perhaps best articulated in his By Any Means Necessary speech given at Detroit's Ford Auditorium on Feb. 14, 1965. The oratory contained the famous words: "We declare our right on this earth to be a man, to be a human being, to be respected as a human being, to be given the rights of a human being in this society, on this earth, in this day, which we intend to bring into existence… by any means necessary."
A week later Malcolm was assassinated at the Audubon Ballroom north of Harlem in New York on Feb. 21, 1965. Acknowledging his stature in the Black community, Lenox Avenue was renamed Malcolm X Boulevard by New York's mayor in 1987.
While the involvement of young blacks in the attack against Singh underscores the tragic political and moral disorientation of a certain layer of black youth, the appalling incident points to a much larger problem in American society as a whole. Despite our being awash in information and early 21st century technology, the US is not far removed from xenophobic hysteria. These malevolent forces find expression amongst the disempowered and uneducated… which at the moment pretty much describes us all.
When the economy is in the tank and the nation is at war, and yes dear shopper, the nation is at war, you can count on the flames of tribalism being fanned.
Those that attacked Dr. Singh did so out of distorted notions of patriotism, but where do these ideas emanate from? Twelve years after the 9/11 terror attacks on the World Trade Center, American society still produces individuals who ignorantly lash out at the innocent for the heinous crimes committed by others. Here, the words of Malcolm X come thundering in: "You're not supposed to be so blind with patriotism that you can't face reality. Wrong is wrong, no matter who says it."
Dr. Singh, an assistant professor at Columbia's School of International and Public Affairs and a practicing physician that specializes in community-based health care in East Harlem, told BuzzFeed: "This is my community, I live in Harlem, I see patients here, It's not the side of Harlem I've come to know and not how I've been embraced."
In a press conference held after his release from the hospital, Dr. Singh said: "If I could speak to my attackers, I would ask them if they had any questions, if they knew what they were doing. Maybe invite them to the Gurudwara (Sikh temple) where we worship, get to know who we are, make sure they have an opportunity to move past this as well."
Singh and others of his faith have every reason to expect acceptance in the Land of the Free. Sikhs first came from India to the US over 130 years ago. Because of the colonial practices of the British in India, thousands of Sikhs emigrated to the US, with most coming to California to labor as agricultural workers. The oldest Sikh temple in the US was built in Stockton, California in 1912; Sikhs have been contributing to the American family ever since.
After Imperial Japan attacked Pearl Harbor in 1941, Japanese Americans suffered through a wave of humiliating and violent racist hysteria. It culminated in all people of Japanese ancestry on the West coast of the US being rounded up by order of President Roosevelt (a Democrat), and forcibly shipped to isolated concentration camps. These US citizens were stripped of their possessions, homes, and businesses simply because of their skin color.
On Sept. 9, 2010, the Japanese American Citizens League (JACL), the Nikkei for Civil Rights & Redress (NCRR), and the Japanese American National Museum of Los Angeles, conducted a candlelight vigil against the scapegoating of Muslim Americans. I participated in that vigil of some 200 souls on the steps of the museum, and I was honored that copies of my poster, I Am Not The Enemy, were fervently utilized as statements against bigotry and religious intolerance.