Hunter Biden's very first art investigation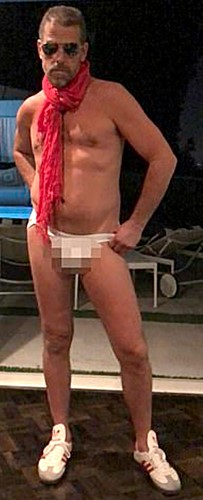 On Oct. 14, 2021 Hunter Biden showed his stupefyingly expensive but unskilled artworks at Milk Studios in Hollywood, California. Soon after the show I wrote an unflattering review titled Hunter Biden's very first art exhibit.
Hunter's art career has certainly garnered much attention since then, in large part due to the efforts of Georges Bergès, the Manhattan gallerist who represents Hunter.
Bergès organized the Hollywood exhibition, where an anonymous buyer purchased five of Hunter's prints for a whopping $375,000. The asking price for a few of Hunter's paintings was $500,000—an inconceivable price for a fledgling artist at their first show.
It is not known if any of those half-a-million canvases sold, since Bergès struck a deal with the White House, to keep the identity of buyers secret from Hunter and the press in order to prevent "ethical issues."
It almost makes one think anonymous buyers were acquiring Hunter's amateurish scrawls just to curry favor with the "Big Guy" in the White House. But such ethics violations couldn't possibly happen under the administration of good ol' Scranton Joe. Why he promised to, ahem… "bring transparency and truth back to the government."
Fast forward to the present and we have Hunter Biden's very first art investigation. It appears that Hunter's art world gimmickry has finally garnered the attention of scornful art critics at the House Committee on Oversight and Accountability—the main investigative committee of the US House of Representatives.
On Jan. 25, 2023 the Chairman of the House committee, James Comer, sent a letter to Georges Bergès, it reads in part:
Dear Mr. Bergès:

The Committee on Oversight and Accountability is investigating President Joe Biden and his family's foreign and domestic influence peddling schemes. During the 117th Congress, Committee Republicans wrote to you requesting information regarding your gallery's sale of artwork by the President's son, Robert Hunter Biden. You did not respond to these requests, but you have since hosted another Hunter Biden art exhibit at your SoHo gallery. The Committee is reiterating its request for documents related to the Committee's investigation of the Biden family and is requesting you appear for a transcribed interview.

For over a decade, the Biden family has profited from Joe Biden's positions as a public official. Your arrangement with Hunter Biden raises serious ethics concerns and calls into question whether the Biden family is again selling access and influence. Despite being a novice artist, Hunter Biden received exorbitant amounts of money selling his artwork, the buyers' identities remain unknown, and you appear to be the sole record keeper of these lucrative transactions.

For example, you have advertised that Hunter Biden's latest artwork ranges in price from $55,000 to $225,000. It is concerning that President Biden's son is the recipient of anonymous, high-dollar transactions—potentially from foreign buyers—with no accountability or oversight (other than you). The American people deserve transparency regarding certain details about Hunter Biden's expensive art transactions."
The Committee's letter to Mr. Bergès proclaimed: "We believe you possess important information related to this investigation. As such, please produce the following documents to Committee Republicans as soon as possible, but no later than February 8, 2023." The letter provided a list of seven documents the committee expects to receive from Bergès—including "Documents sufficient to show who attended the opening of Hunter Biden's art shows," and documents that "show who purchased Hunter Biden's artwork." Uh-oh.
The letter closed with an exhortation that Bergès should make himself "available for a transcribed interview with Committee staff" prior to Feb. 15, 2023.
The entire unedited letter to Georges Bergès from the Committee on Oversight and Accountability has been posted online by the House of Representatives.
___________________________________
UPDATE: On Jan. 26, 2023 art dealer Georges Bergès responded to House Oversight Committee demands for documents in a statement he made to Fox News:
"At the moment I cannot comment and I will refer you to my legal counsel but know that my singular focus has always been, and will continue to be, the integrity of our artists and the privacy of our art collectors.
I represent Hunter Biden because I feel that not only his art merits my representation, but because his personal narrative, which gives birth to his art, is very much needed in the world. His is a story of perseverance; Hunter's story reflects what I believe is the beauty of humanity, judged not by the fall, but by having the strength to rise up, by having the character required to change and the courage to do it. Hunter Biden's art reflects all of that and more. His art gives us hope; it reminds us that tomorrow brings a new day, a new beginning, a new possibility. Hunter Biden will become one of the most consequential artists in this century because the world needs his art now more than ever. In a world that beats us down, we need art in our lives that reminds of the unrelenting divinity within each of us."