LACMA: Video on the Loose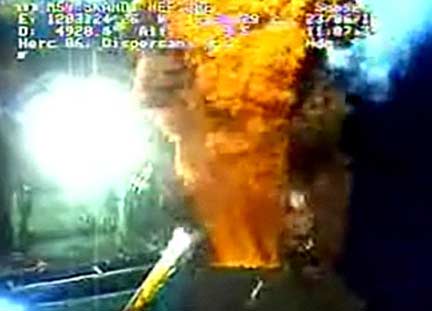 Video on the Loose: Freewaves and 20 Years of Media Art, is an evening of postmodern video presentations that the Los Angeles County Museum of Art (LACMA) will be mounting outdoors at its "BP Grand Entrance" on Sat., June 26, 2010.
The event is being promoted as a  20th anniversary celebration of Freewaves, the L.A.-based new media arts organization. According to a LACMA press release, the videos "will animate the BP Grand Entrance and North Piazza with an international selection of video from the past two decades."
Over twenty unique videos by some 30 different video artists will be shown, and according to a Freewaves press release, "The videos span perspectives from the identity politics of the 1990s to post-9/11 reality checks, from deep inside the mass media landscape to observations from media makers in Africa, Asia and Latin America." Reality checks indeed. Freewaves touts that "each of the 20+ videos will be looping continuously on separate monitors," one presumes in the same way BP spokespersons constantly assure the public of the oil company's commitment to clean and sustainable energy. The only videos that should be looping continuously at LACMA's obscene BP Grand Entrance are of those showing the thousands of heavily oiled sea birds dying en masse in the Gulf of Mexico dead zone created by BP.
The evening's video display at LACMA includes four programs organized under the titles of Squirm, Trouble, Pop Cop, and Dual/Duel. Freewaves purports that their Pop Cop program consists of videos that are "critical responses to television ads, news, and authorities," but it is a safe bet the video presentation at the BP Grand Entrance will be completely devoid of troublesome images from BP's ecocide in the Gulf.
On June 23, just three days before LACMA's video fest, BP was busy preparing its own video extravaganza. The oil company announced it had to remove the so-called "containment cap" it had lowered over the gushing underwater oil well, because one of its robotic submarines had damaged the cap in a collision. Of course that means the massive flow of oil streaming into the ocean has been greatly increased – to an estimated 2.5 million gallons of crude oil a day! It is all being captured live in streaming video from camera's BP set up at the broken well. BP's experimentation with new media is certainly captivating, one would think it qualifies as the type of "innovative" and "relevant" video Freewaves claims to champion. If Freewaves really stands for "uncensored independent new media," then perhaps someone from the organization will have a twinge of social consciousness and hook up a live video feed of BP's erupting oil volcano.
Tickets for the "ostrich-with-head-in-sand" affair can be purchased at, yes – the BP Grand Entrance at LACMA. Ticket prices are $10 per person, and no, the money will not be donated to help rescue, clean-up, and nurse back to health, those thousands of oiled sea birds in the Gulf of Mexico.
[Update – June 24: BP has repositioned its "containment cap" over the blown-out well, and has resumed siphoning oil from the broken pipeline. BP placed the containment cap over its ruptured pipe after all other attempts to shut off the flow ended in failure; the cap has not plugged the gushing pipe, it just allows for the capture of a certain amount of oil. BP claims of siphoning off up to 16,000 barrels a day are controversial, given that the oil company previously said 5,000 barrels a day were leaking. BP has promised to stop the leak by August, when two relief wells presently being drilled will supposedly cut off the oil by filling the well with heavy cement. There are no assurances the plan will succeed, and until then well over 60,000 barrels of crude oil will gush into the ocean every day for two months.]