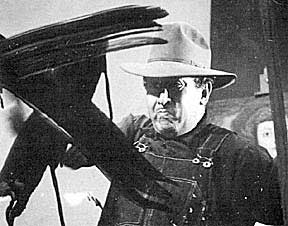 Richard Schaaf of Azul Editions, a small independent press, informed me of some exciting news. A long out of print book by famed Mexican Muralist, David Alfaro Siqueiros, has been translated into English and republished by Azul Editions.
How to Paint a Mural is the Mexican master's instructional essay on the fine art of creating a public wall mural. It should go without saying that Siqueiros was one of Los Tres Grandes (The Three Greats). Along with his compatriots Diego Rivera and José Clemente Orozco, the three not only started the influential Mexican Mural School of art, they also helped to create a genuine national art for their country.
Prior to Los Tres Grandes, Mexican artists largely mimicked the art produced by their European counterparts, a vestige of having been a colonized people. A good description of Siqueiros' re-printed treatise comes from Azul Edition's website:
"In How to Paint a Mural Siqueiros recounts his practical and political experience directing his muralist team in San Miguel de Allende, Mexico, detailing virtually every stage of mural painting: the forming of the team, researching the subject and developing the mural composition from the different "spectator" points, the tracing of the mural in an architectonic space, artistic style, developing and constructing improved scaffolding, and making use of new technology – the airbrush and spray gun, the camera, projector, movie camera and other new tools."
Interestingly enough, I've had the privilege of meeting and befriending one of the painters who worked alongside Siqueiros on the San Miguel de Allende mural project – American artist Philip Stein (also known as Estaño). Stein had moved to Mexico in 1948 to study art and soon joined the mural painting team of Siqueiros. The first project he worked on with this group were the murals at San Miguel de Allende, an event Stein wrote about in his brilliant book Siqueiros: His Life and Works. Stein went on to work with Siqueiros from 1948 to 1958, helping the master to paint some of his most enduring mural works. I had the honor of collaborating with Stein when I designed his official website, an extensive online gallery we launched at the beginning of 2005.
It should also be acknowledged that the accomplishments of Siqueiros and his fellow artists inspired the contemporary school of Chicano art here in Los Angeles and throughout the Southwestern United States. The modern mural movement that blossomed in LA during the early 1970's was a direct result of the groundbreaking efforts of Siqueiros and his fellow muralistas. Anyone interested in public art and the methodology of creating a mural would do well to purchase How to Paint a Mural. I'll certainly be purchasing my own copy.