The New René Magritte Museum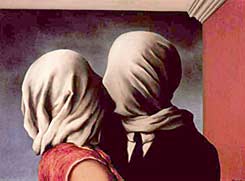 Though it may not show in my work, I've always been interested in the points of view and politics of the Surrealist movement. So naturally I took great delight in learning that a new museum dedicated to one of my favorite surrealist painters, René Magritte, will open in Brussels sometime in early 2007. The collection will include around 150 works that encompass Magritte's paintings, drawings and sketches – as well as other original creations.
The prolific Magritte, who died in 1967 at the age of 68, painted startling dream-like canvases that juxtaposed commonplace objects with people set in impossible surroundings. An artist friend of mine has teased me for being as fastidiously clean and organized a painter as Magritte, reminding me that Monsieur Magritte painted at his easel dressed immaculately in a suit. While I don't dress myself in formal attire while painting, I admit to being meticulous when it comes to organizing my work station and caring for my brushes and related tools.
I was pleasantly surprised – in fact, honored, when my friend compared a painting of mine to a work by Magritte. Not until it was pointed out to me did I see a similarity between Magritte's The Lovers (shown above) and my painting, Masked II (below). It can't be said that I was stylistically influenced in any appreciable way by the Belgium surrealist… yet it's fascinating to see those echoes reverberating across time.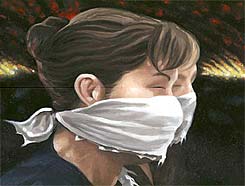 René Magritte lived for some 30 years in a beautiful three story home he rented in Brussels with his wife. Today that dwelling is the current Magritte Museum, and many visitors are amazed to see that the objects and rooms depicted in the artist's surreal paintings were actually part of his surroundings. In fact, seeing the windows, staircases, and fireplaces of Magritte's old residence is to see his paintings come to life. It is not clear to me what will happen to the artist's home-museum once the new building that will house his collection opens on Brussels' Place Royale, but in all probability it will remain open to the public.