Salvador Dalí's Mohawk Haircut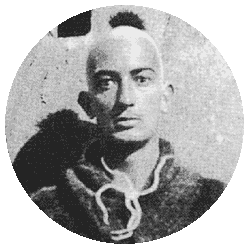 Long before his famous antenna moustache, Salvador Dalí antagonized those around him by sporting a Mohawk haircut. I discovered this in the early 1980's when I found a photo of the young artist published in an obscure punk rock fanzine.
While I don't remember the name of the diminutive self-published zine, I never forgot the stridently non-conformist look of that defiant artist as he stared at me from out of the past.
At the time I was deeply involved in the cultural insurgency of the LA punk rock scene, and I had already created an influential cover illustration for SLASH Magazine that promoted the radical maverick hair-do, so the photo of the youthful surrealist really struck a chord with me. For years I kicked myself for not having purchased that slapdash xeroxed punk zine, as I never saw the photograph of Dalí published anywhere again.
Over the decades I kept my eyes open for the elusive snapshot, but to no avail. Out of curiosity I recently conducted a web search for the image, but that also turned up nothing. As chance would have it, this past June found me in my local library exploring the shelves of art books. I randomly picked up an interesting volume called Writers on Artists
, and when I cracked the hardback open, low and behold… there was my long sought after photograph of Dalí.